Born in the center of North America, in Winnipeg, Manitoba, Canada, Barbara Raué has been researching and compiling family histories for the past two decades. Barbara authored "Coins of Gold," a celebration of the life of her mother. Her second book, a novel, "Arrows, Indians and Love" tells of life during the time of Daniel Boone in Kentucky. Barbara's third book, "The Life and Times of Barbara" is now available as well as the first nine books in this series with books on Inventions, Entertainment, East Coast Trips, Olympics, Wonders of the World, Caribbean Cruises, Animals, Major Storms, and Wars.
Her second novel, Laura Secord Discovered, tells of the heroic walk Laura Secord made during the War of 1812 and intertwines stories of four families during the beginnings of Canada.  Barbara's memoir, Daddy Where Are You?, tells of growing up without a father as he was killed while constructing the water tower on the Hamilton mountain.  The first two of five novels in the Montana Series were published in 2016 and tell of pioneer life in the 1920s and 1930s; the next three novels in the series follow the lives of the Goodmans, Davis's, and Torrensons through the 1940s and 1950s.
Barbara and her husband Harry raised three children, and now enjoy their eight grandchildren.  Matthew, the oldest, is eleven; Elizabeth, the youngest, is twenty-two months.
Barbara enjoys reading, scrap booking, photography, nature walks, and writing.
Barbara has taken up her hobby of photography and her interest in architecture and started a series of Photos of Ontario Towns, Saving Our History One Photo at a Time.  Barbara has completed over 160 books in this series including books on: London, Guelph, Hamilton, Dundas, Owen Sound, Brantford, Waterford, Drumbo, and many more.  The latest are books are on Cornwall east to Brockville.  These books are Available on Amazon in both paperback and some in e-Books.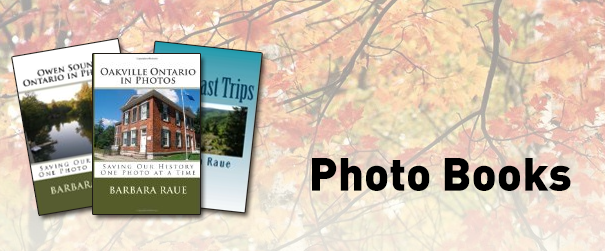 Barbara has completed an updated Cromwell Family Book, placing her ancestors in their relationship to Oliver Cromwell, Lord Protector of England, and tracing the family back to the year 1100 in Wales.  The Babbitt Family has a chapter tracing the ancestry through that line back to the first Babbitt to come to the United States. In 2013, Barbara published The Cromwell Family Book.