Art Deco and Other Architecture in Ontario
Art Deco, 1910-1940 – The Art Deco Style was developed for the French luxury market after World War I. Art Deco left its mark on everything from lamps and foot stools to purses and hair combs. The style was adopted in Ontario by wealthy and very fashionable patrons who wanted Art Deco detailing to make their buildings look lavish and exotic.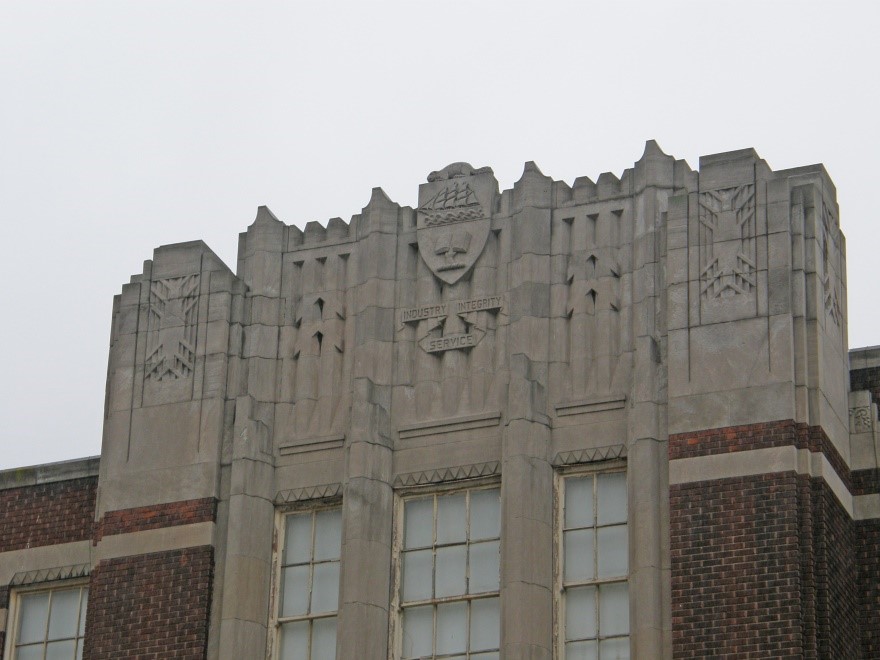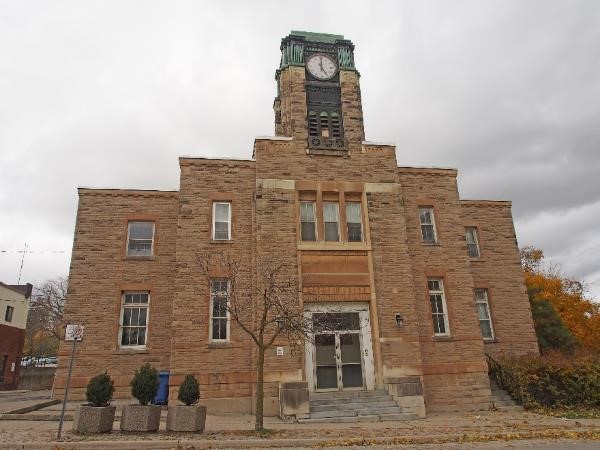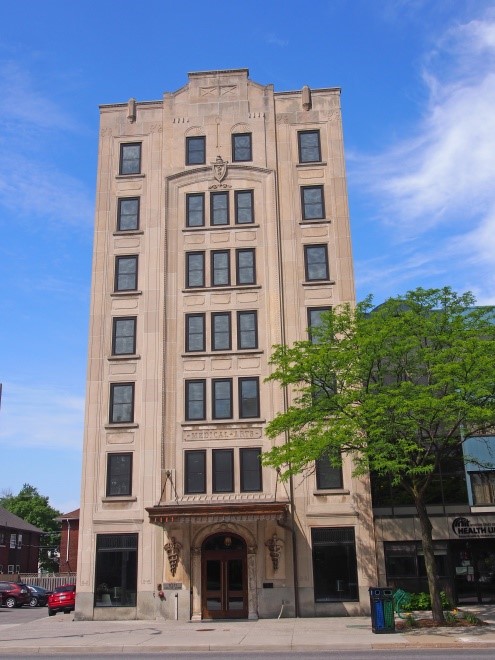 Art Moderne, 1930-1945 – This style originated in the United States with rounded corners, smooth walls, and flat roofs. Large expanses of glass were used, even wrapping around corners.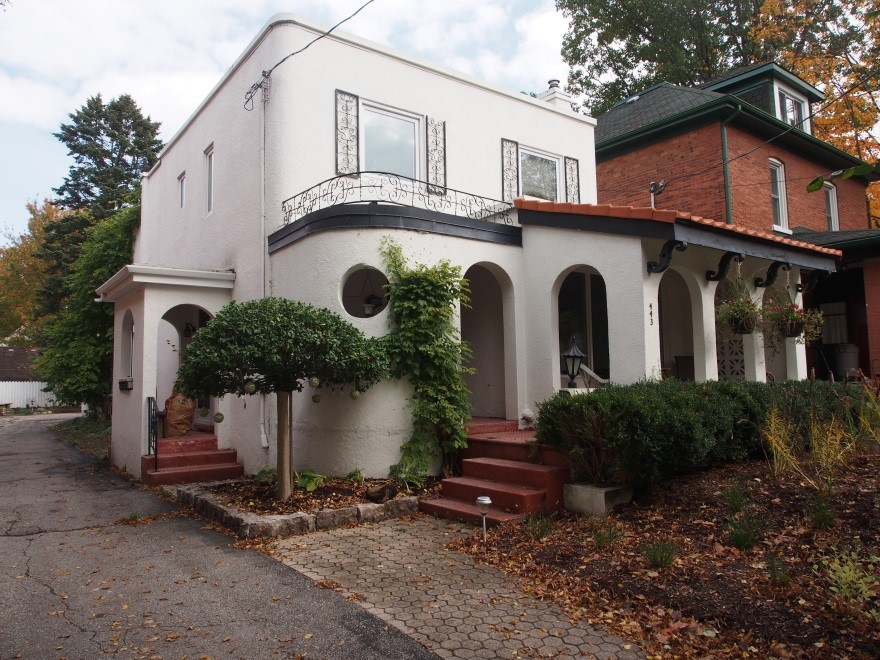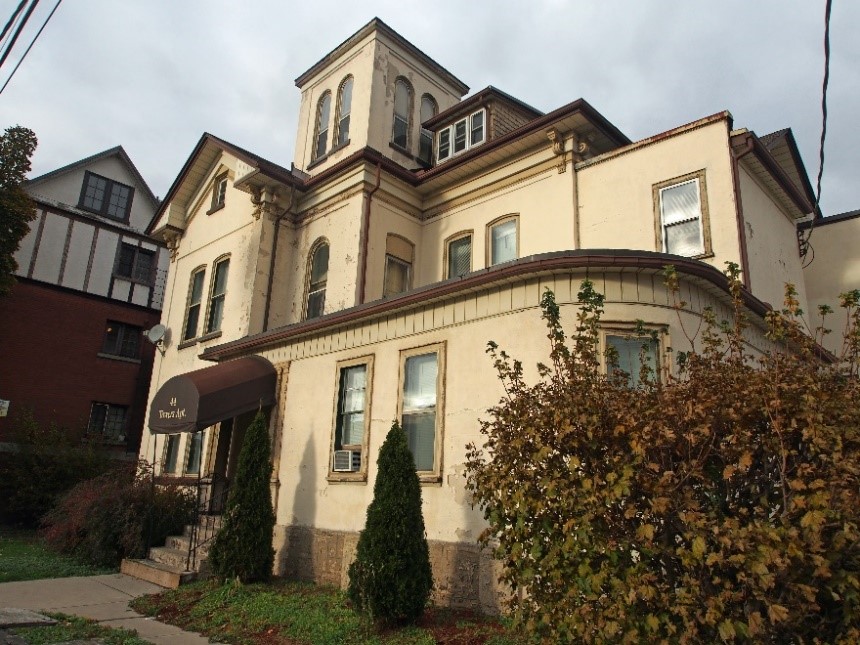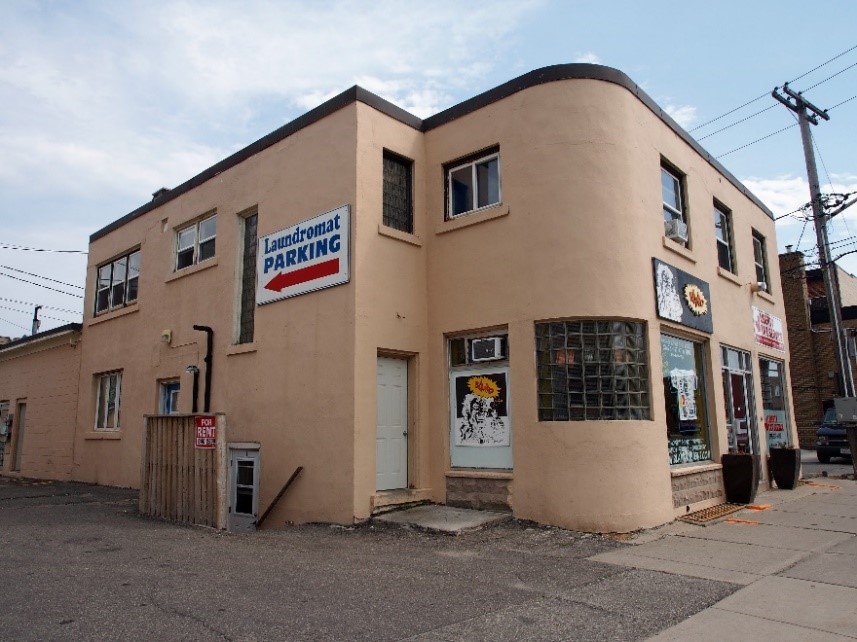 Arts and Crafts: The overlying theme – the house was based on the function of the house. Rooms were oriented to take advantage of the movement of the sun for warmth and light during daylight hours. Side entrances allowed for usable space on the front facade for light or garden use. Features include: wood, stone or stucco siding; low-pitched roof; wide eaves with triangular brackets; exposed roof rafters; porch with thick square or round columns; stone porch supports; exterior chimney made with stone; open floor plans with few hallways; many windows, some with stained or leaded glass; beamed ceilings; dark wood wainscoting and moldings; built-in cabinets, shelves, and seating.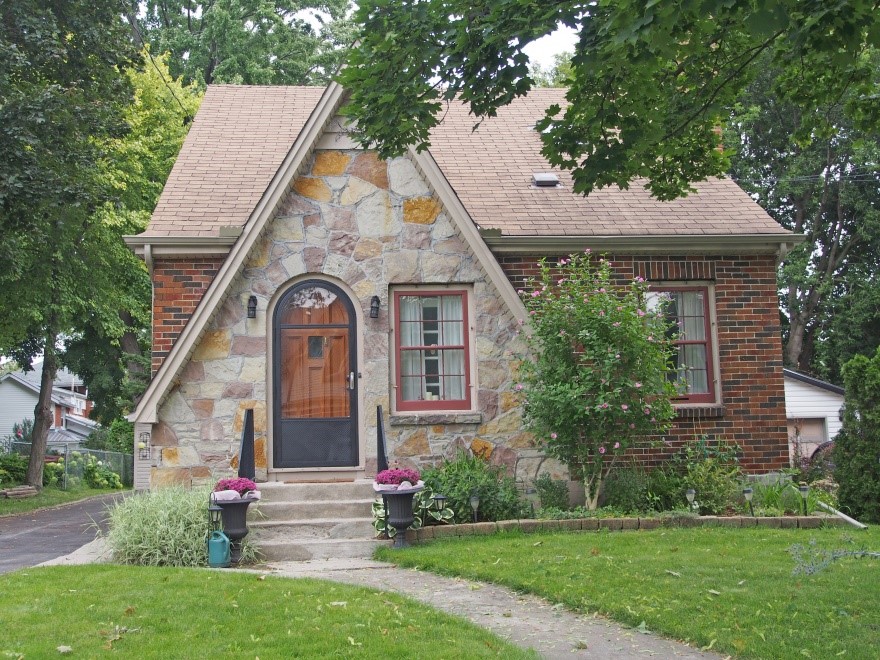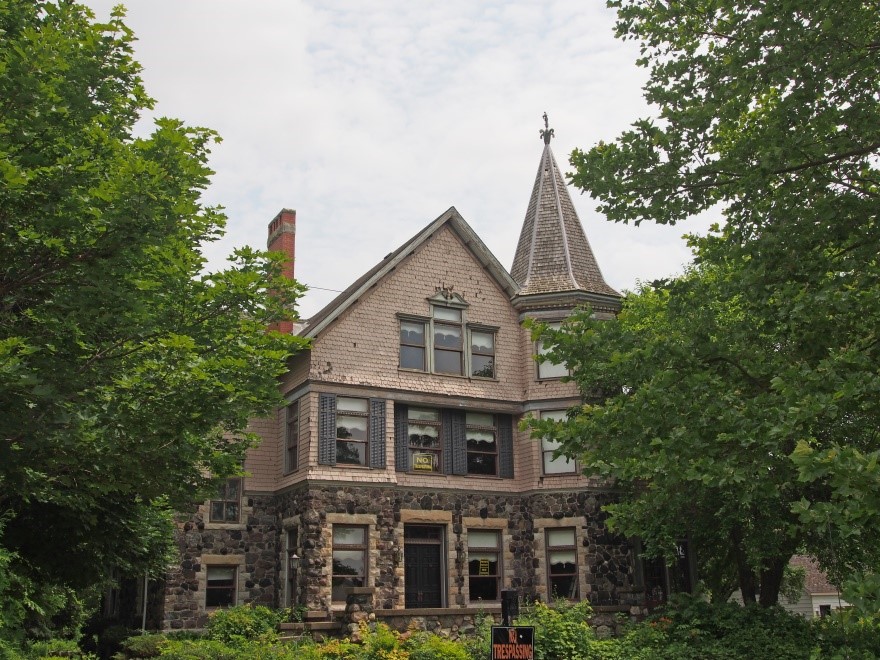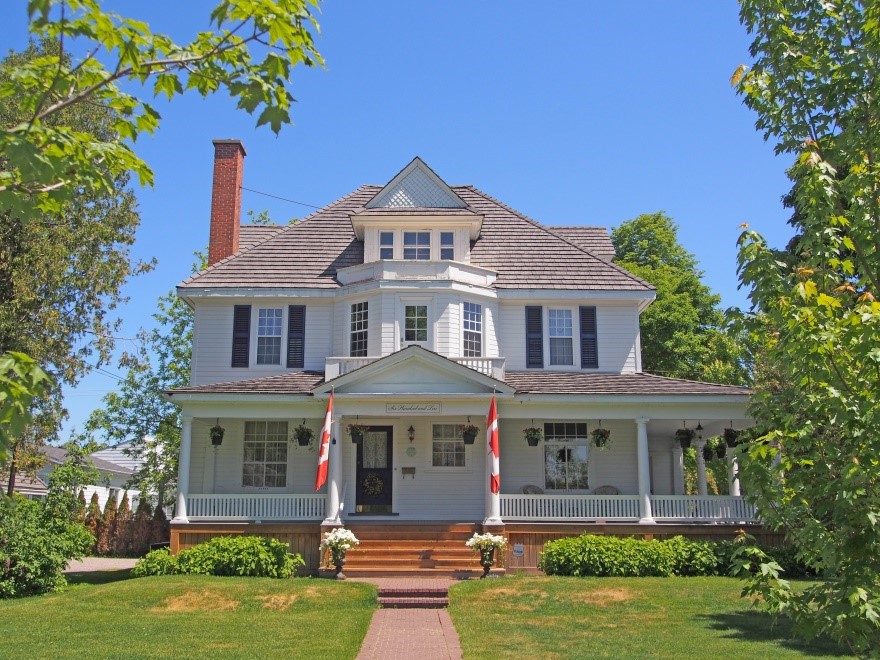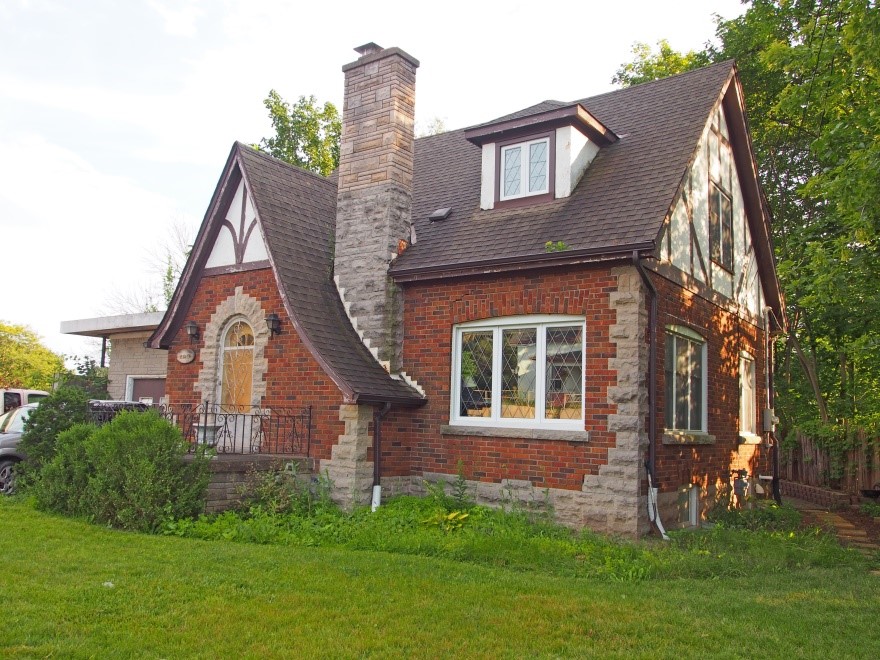 Craftsman 1905-1925 – The Craftsman style is derived from the Arts and Crafts movement of the early 20th Century. It was a style that builders could take on with or without the services of an architect, and generally used locally sourced materials. It promoted simplicity with clean lines and evoked strength and quality in how the exterior components were placed. The earlier traditional Craftsman house tended to be symmetrical in its proportions. It was at least two floors, sometimes up to three on large lots in neighborhoods such as Mount Pleasant, Kitsilano and Shaughnessy. The form was defined primarily by gables and porches. Deep-set full width porches, a carry-over from Edwardian Builder houses, were common. Sleeping porches were popular.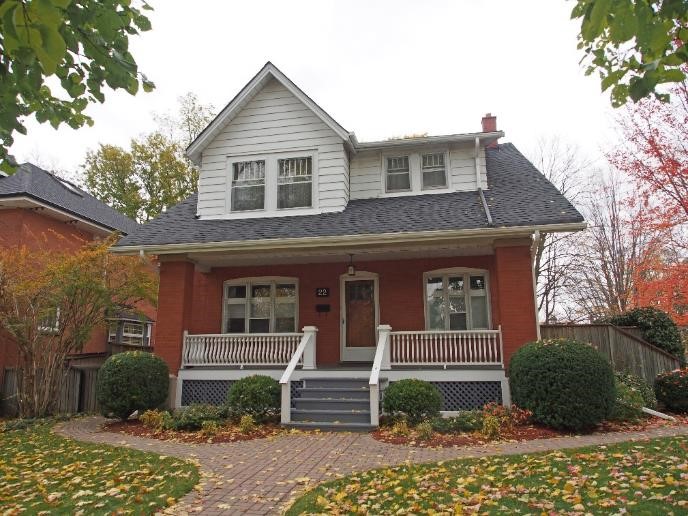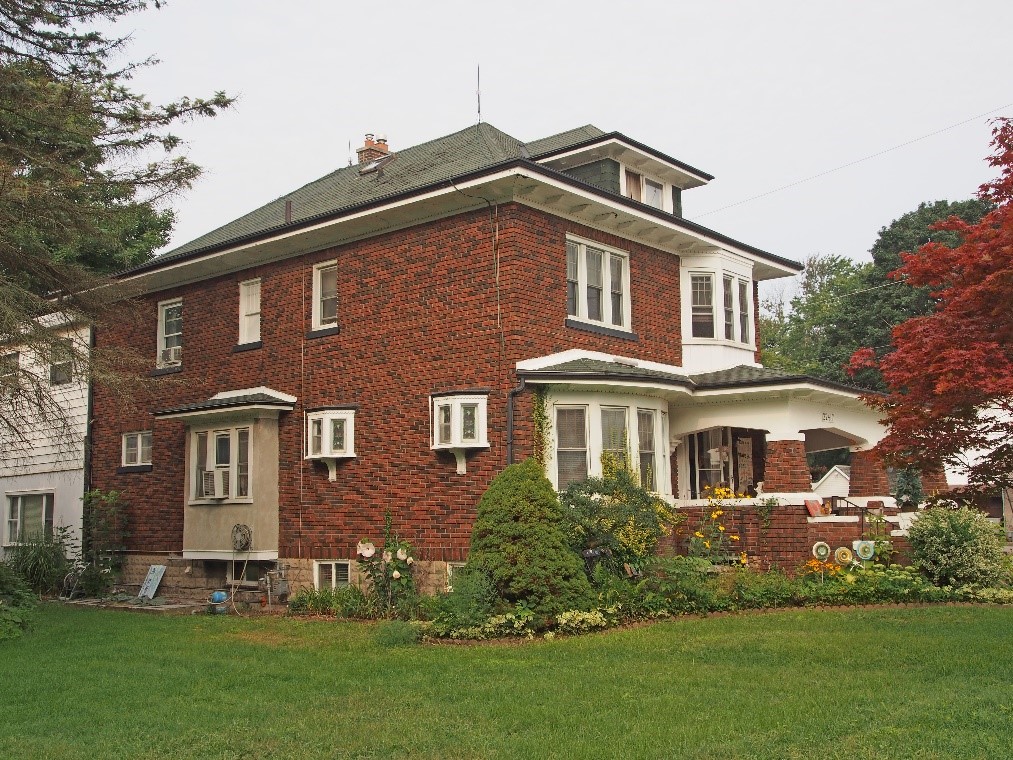 Classical Revival, 1820-1860 – This style was an analytical, scientific, and dogmatic revival based on intensive studies of Greek and Roman buildings, concerned with the application of Greek plans and proportions to civic buildings. Schools, libraries, government offices, and most other civic buildings were built in the Classical Revival style. The white columned porches of the Classical Revival domestic buildings are identified with the mansions of wealthy land owners in Canada.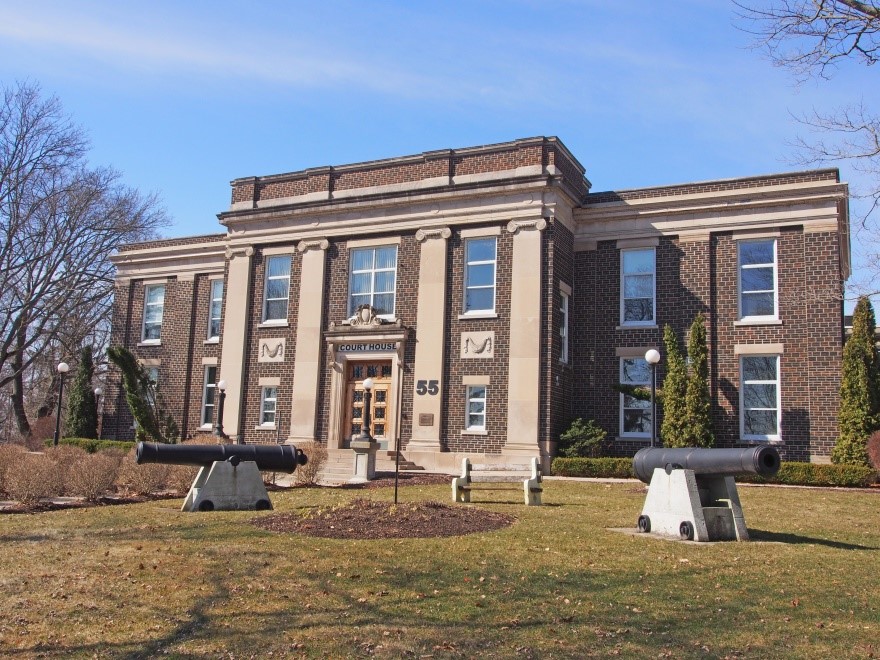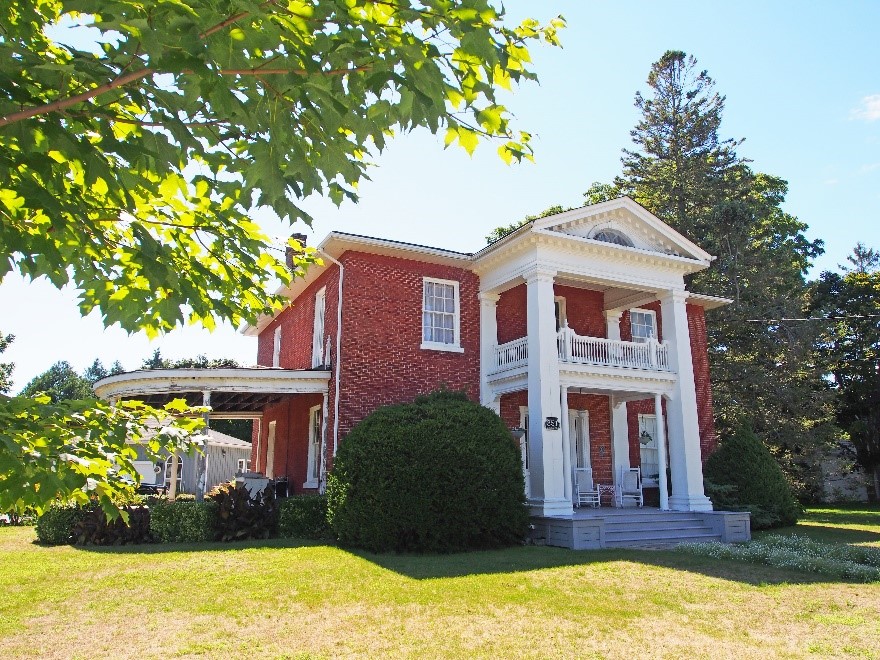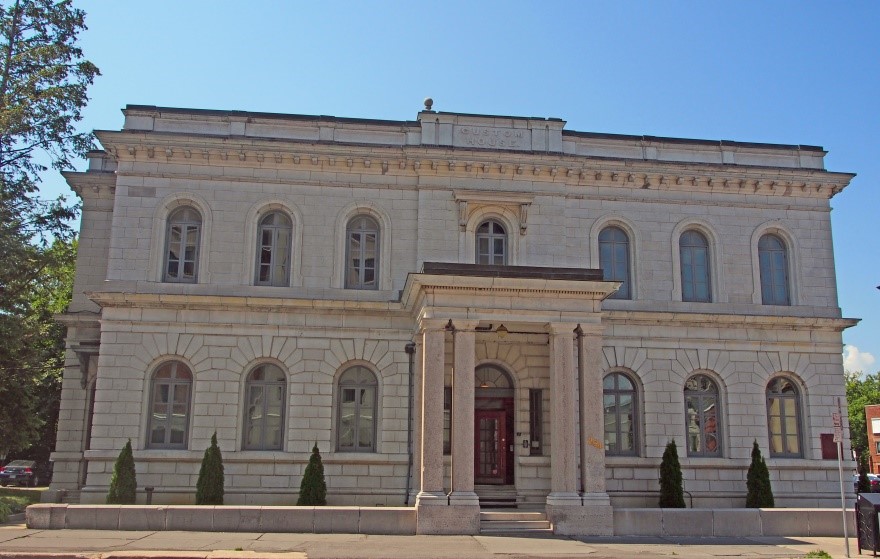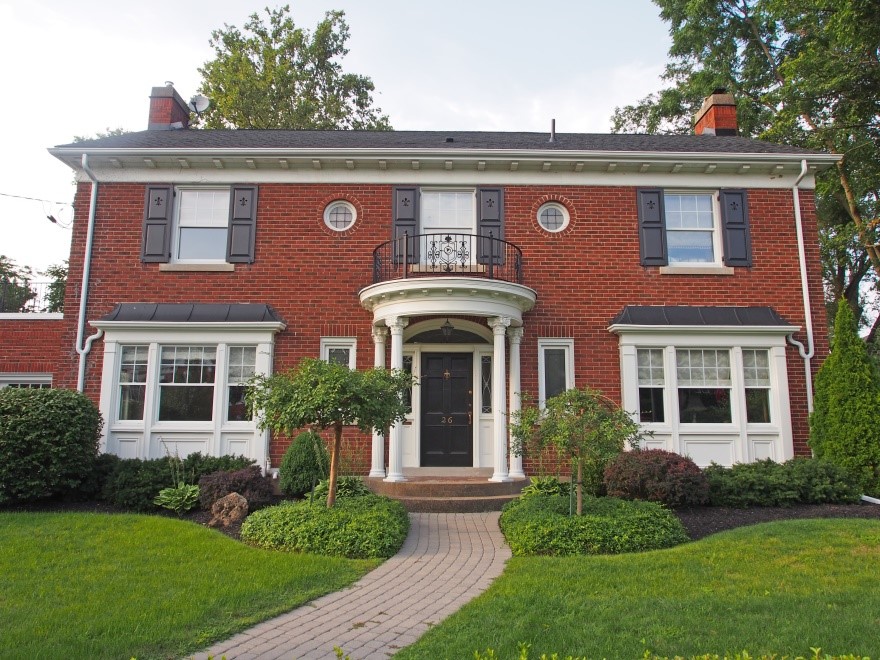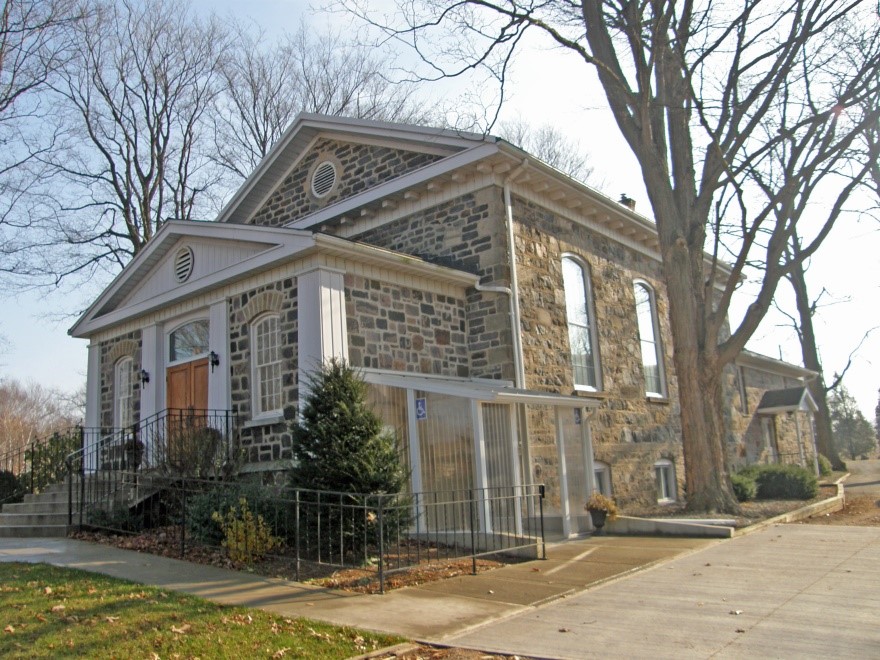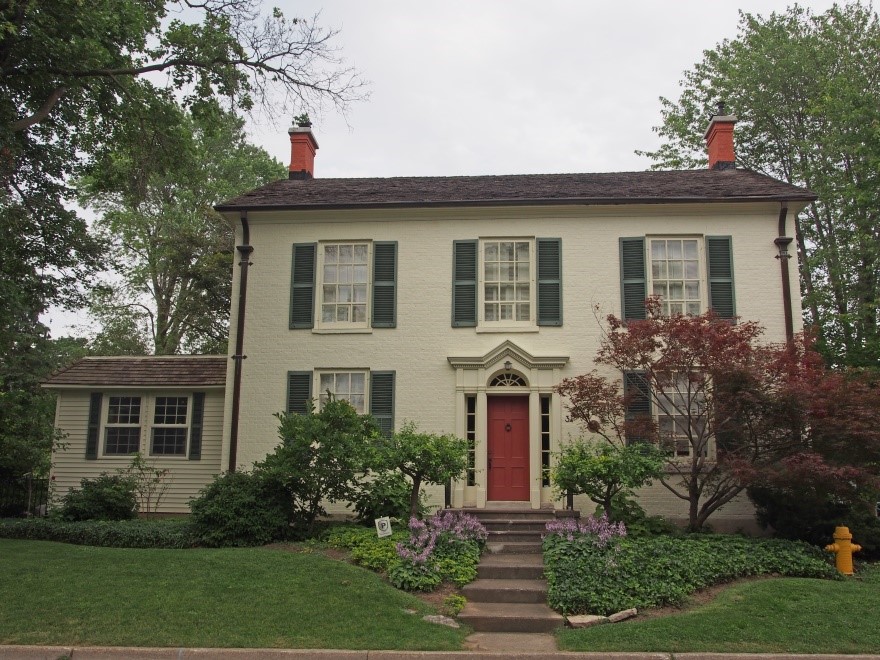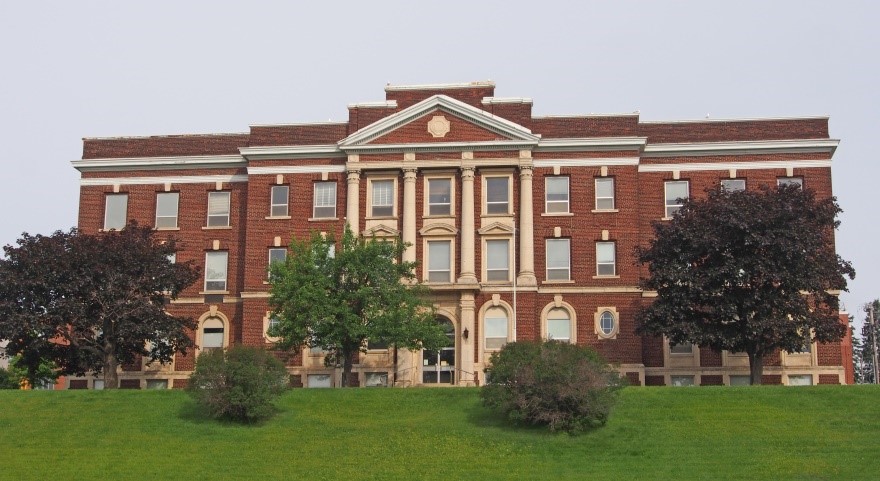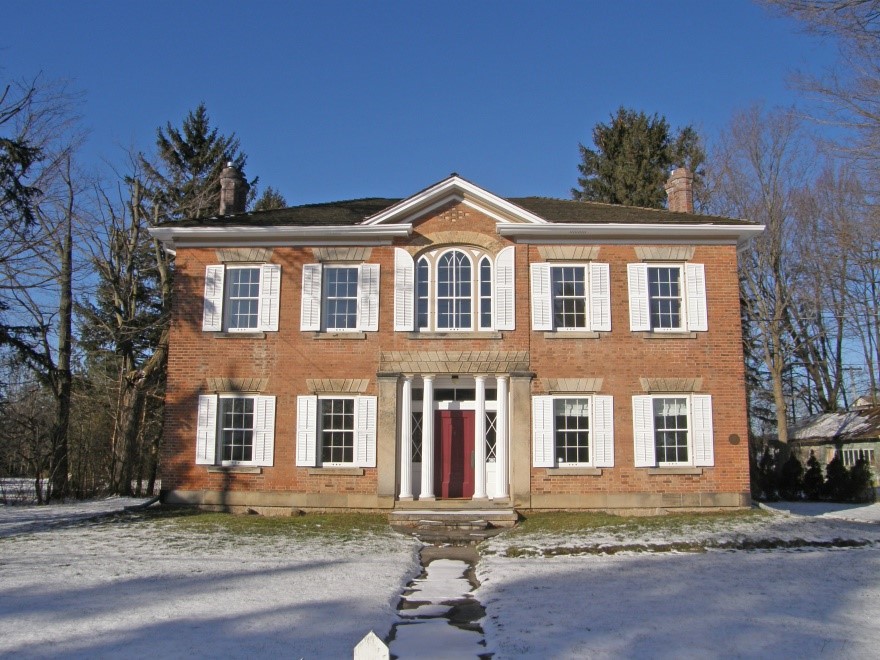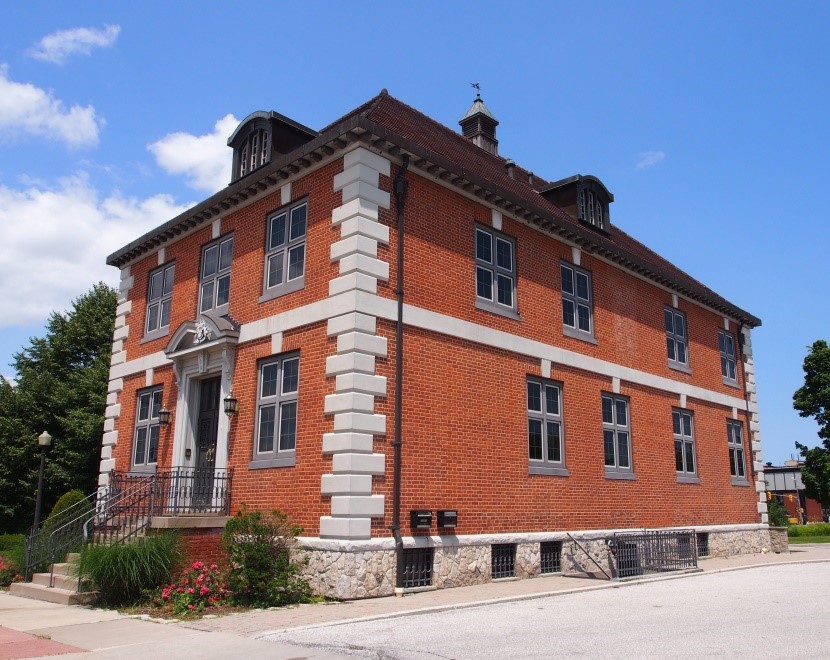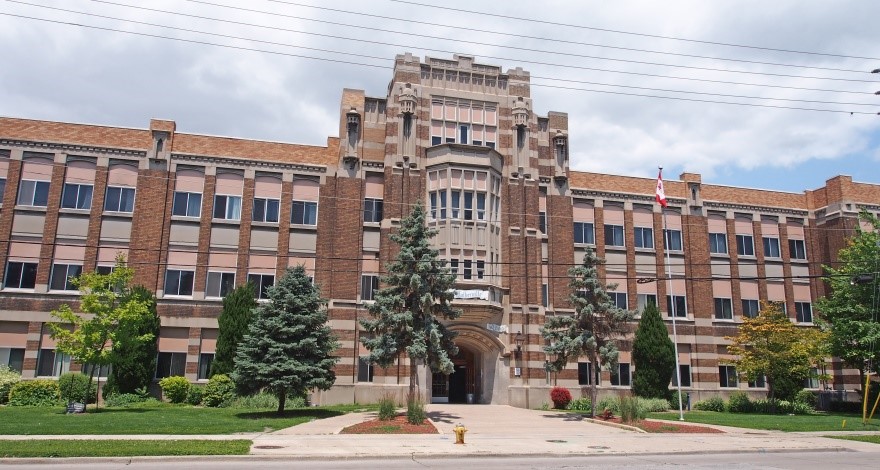 Greek Revival – have gabled or hipped roofs with low pitches. The cornice of the main roof usually has a wide band which represents the entablature of classical Greek architecture consisting of the frieze and the architrave. Greek or Roman columns usually support the porch. The front door is surrounded by sidelights and a rectangular transom and is usually dressed with pilasters, pediments and/or columns.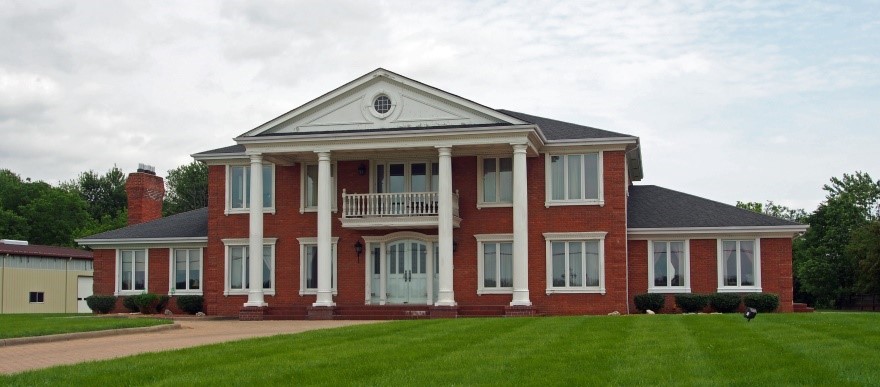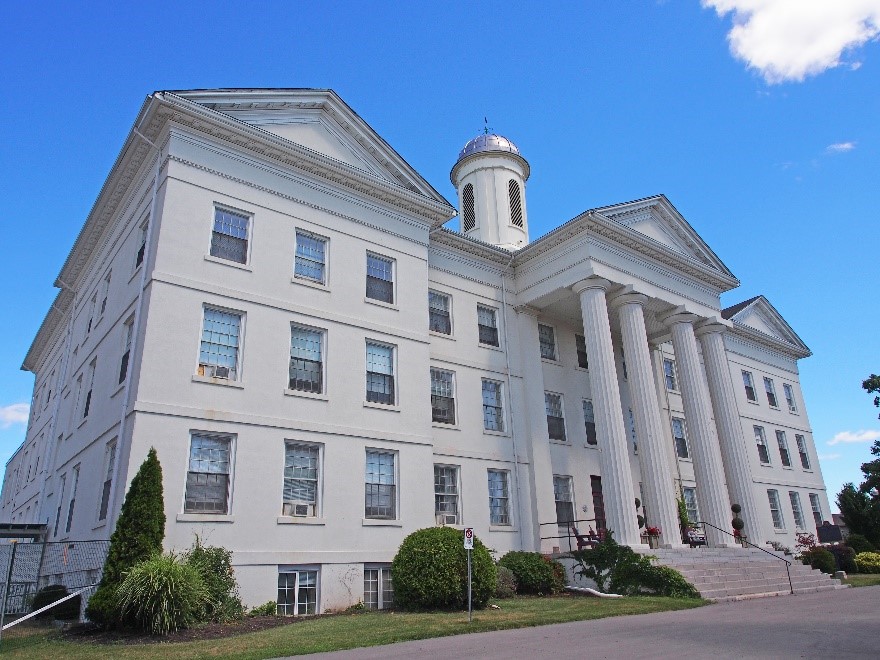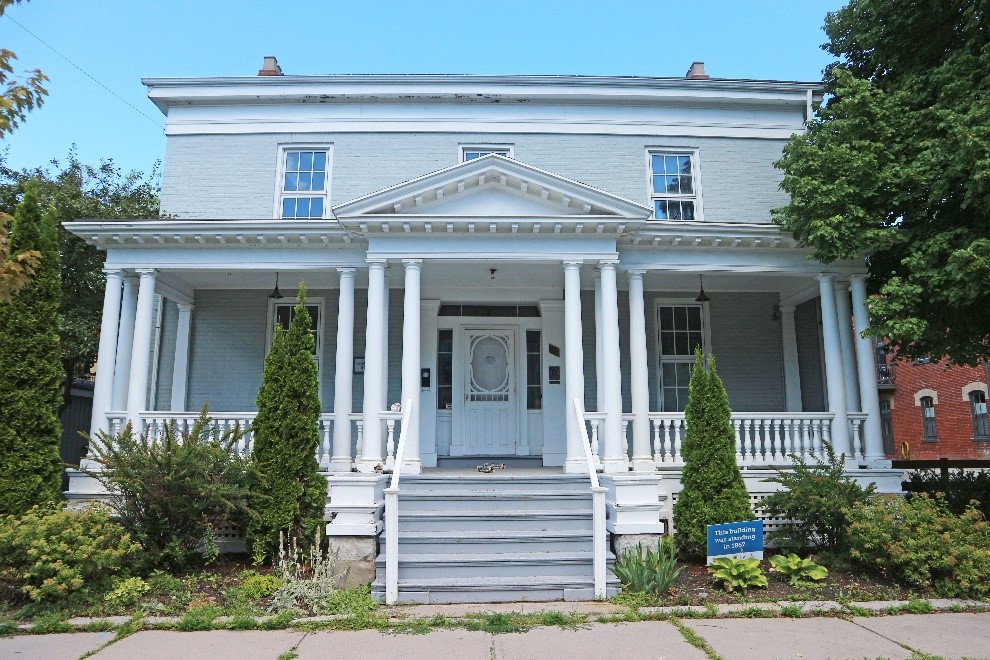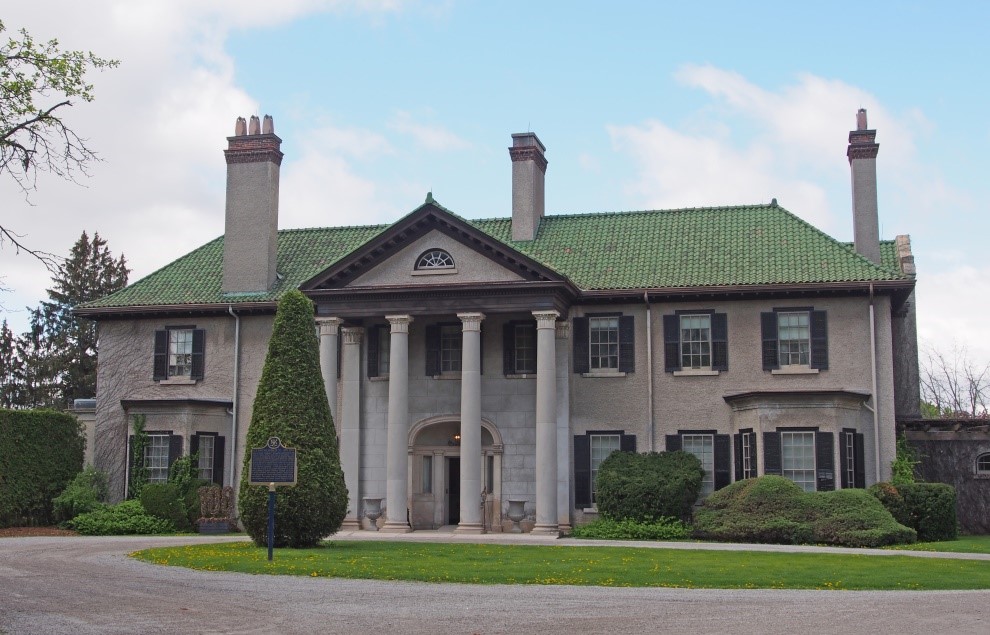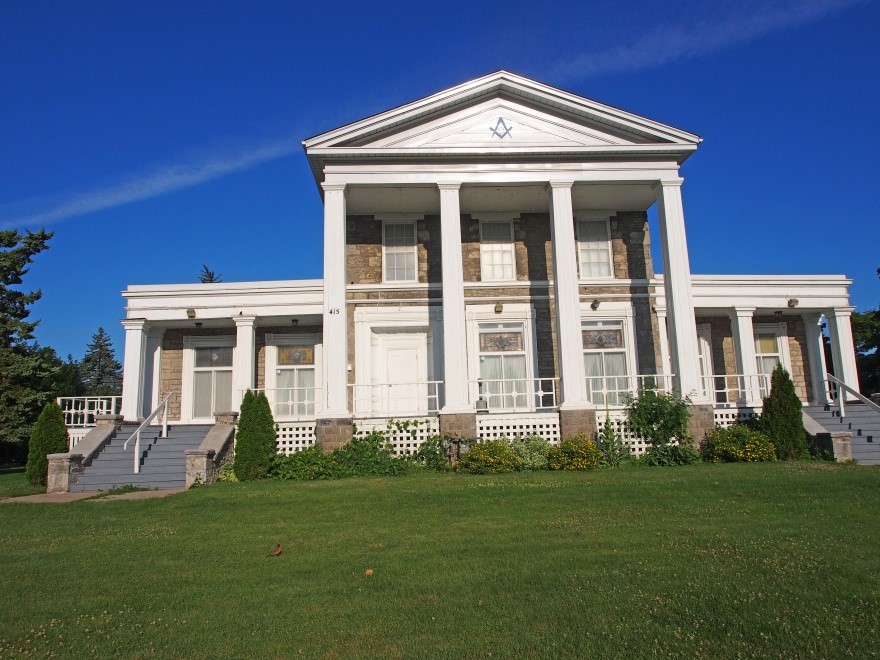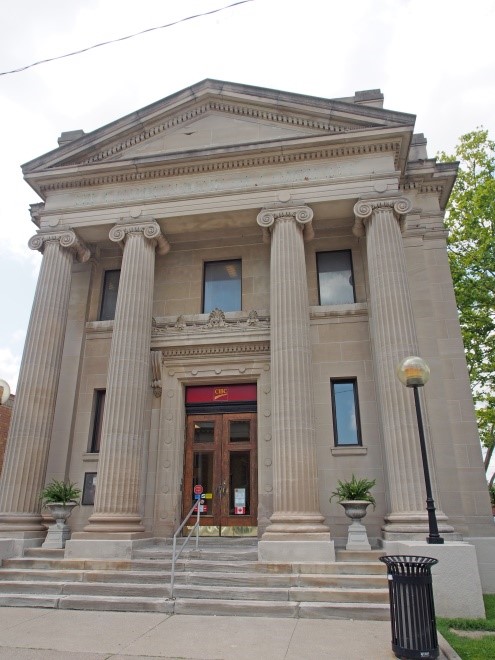 Colonial Revival (1900 – 2003) – an attempt to recall the architecture of the first colonies in North America. Ontario, or Upper Canada, was largely colonized by United Empire Loyalists, English people who were not interested in joining the independence movement of the United States. Colonial Revivals are a tribute to the early settlers. The design is symmetrical, balanced, and refined, often with pedimented porticoes, and large Ionic columns.
Dutch Colonial Revival, 1890-1930 – is distinguished by its gambrel roof, with or without flared eaves, and the frequent use of dormers. The gambrel style allowed an almost complete second floor without the expense of two-story construction. Characteristics: 1½ to 2 stories, clapboard or shingle siding, usually symmetrical facades, gable-end chimneys, round windows in gable end, porch under overhanging eaves, shed, hipped or gable dormers, columns for porches and entry.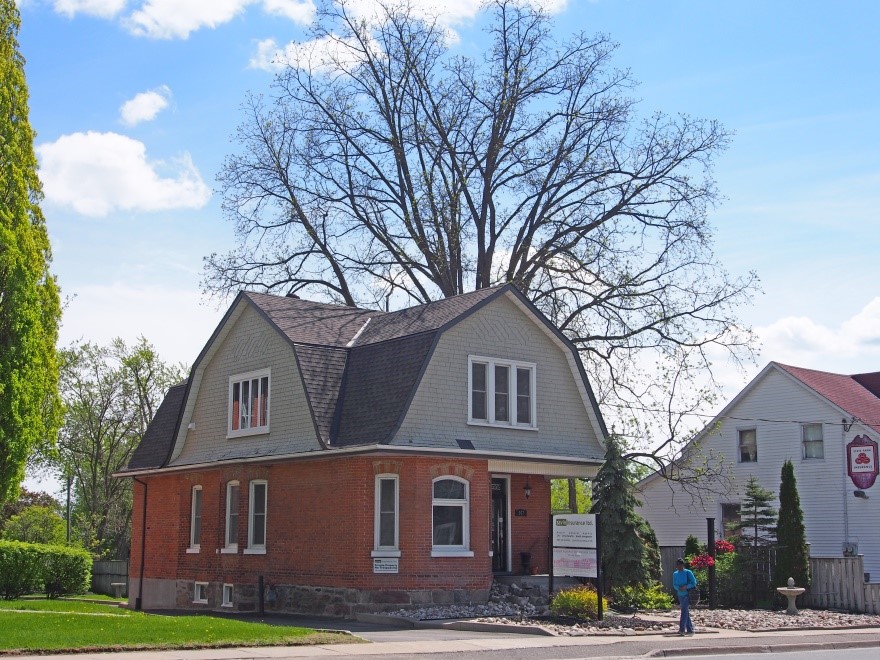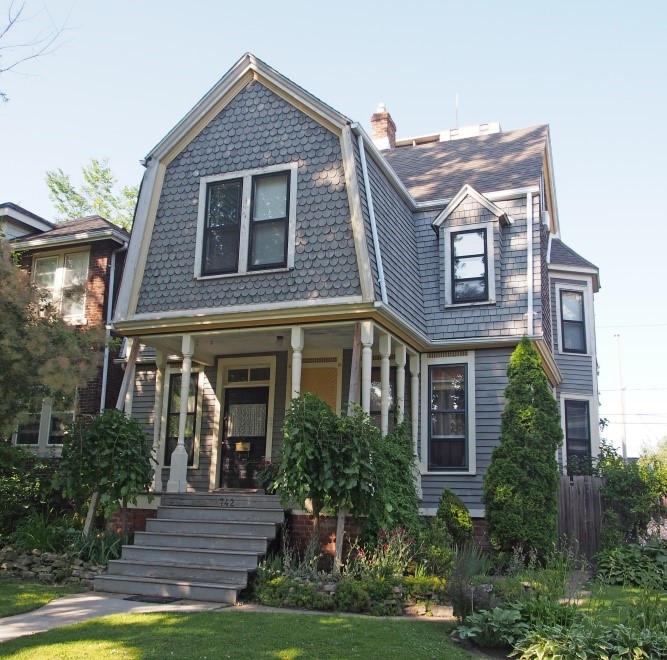 Cape Dutch architecture is a traditional Afrikaner architectural style found mostly in the Western Cape of South Africa. The initial settlers of the Cape were primarily Dutch. When the Dutch came to Ontario, they brought with them building concepts from their own native lands. Architecture from the 18th and early 19th centuries in Ontario includes a wide assortment of detailing and ornament all applied to a basic building design centered around the fireplace and the source of water.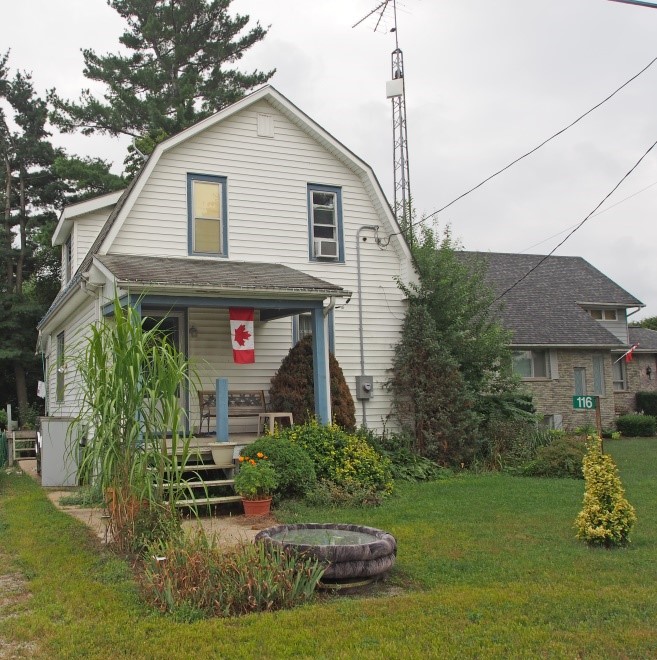 Neo-Colonial (also Colonial Revival, Georgian Revival or Neo-Georgian) architecture seeks to revive elements of architectural style of American colonial architecture of the period around the Revolutionary War which drew strongly from Georgian architecture of Great Britain. Architecture from the 18th and early 19th centuries in Ontario includes a wide assortment of detailing and ornament applied to a design centered around the fireplace and the source of water. Structures are typically two stories, have a symmetrical front facade with elaborate front doorways, often with decorative crown pediments, fanlights, and sidelights, symmetrical windows flanking the front entrance, often in pairs or threes, and columned porches.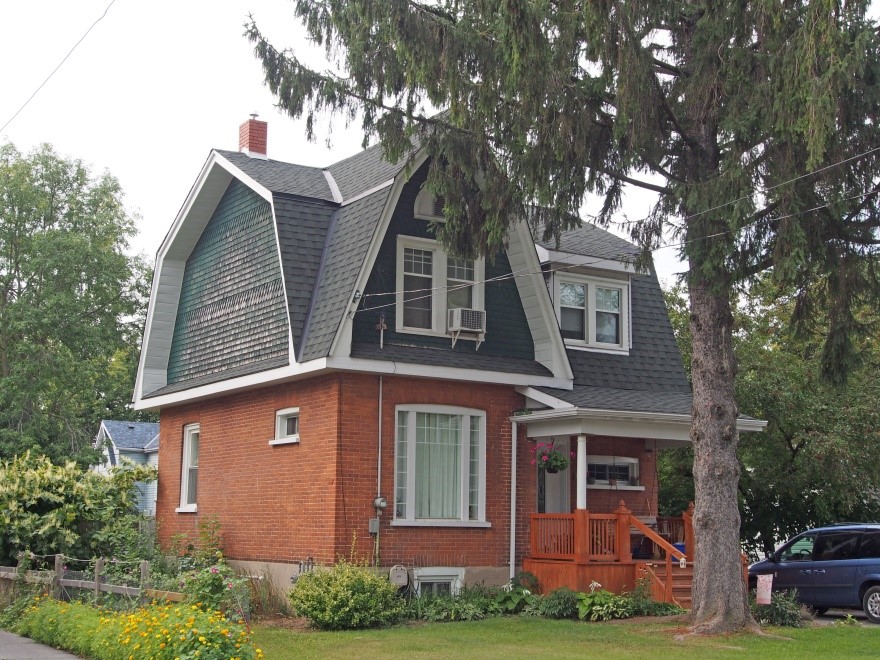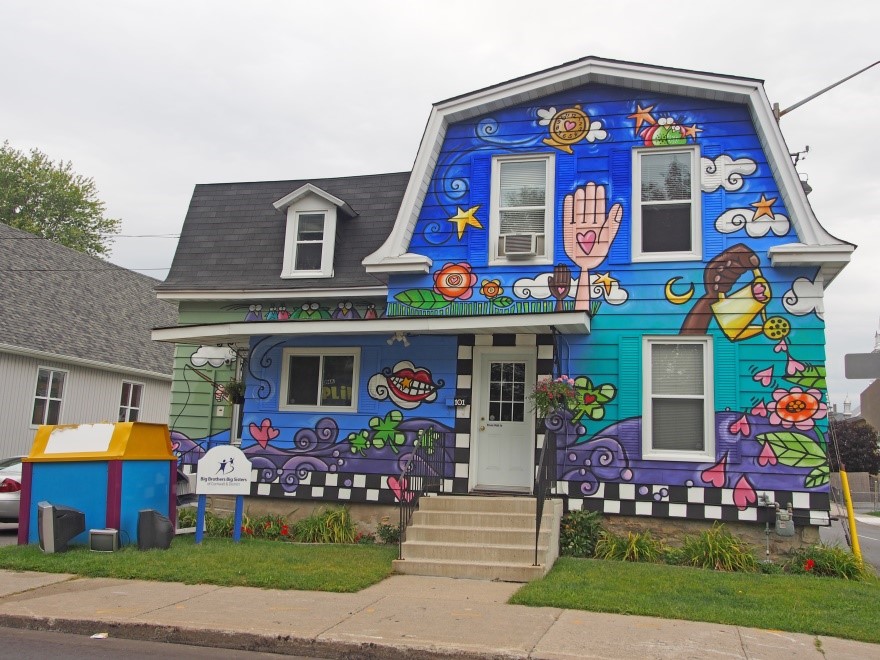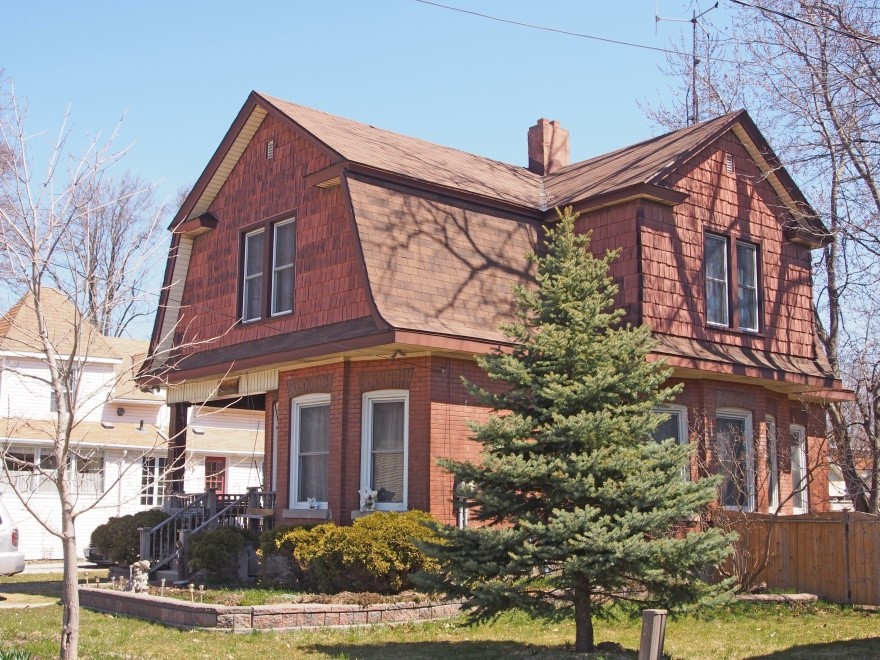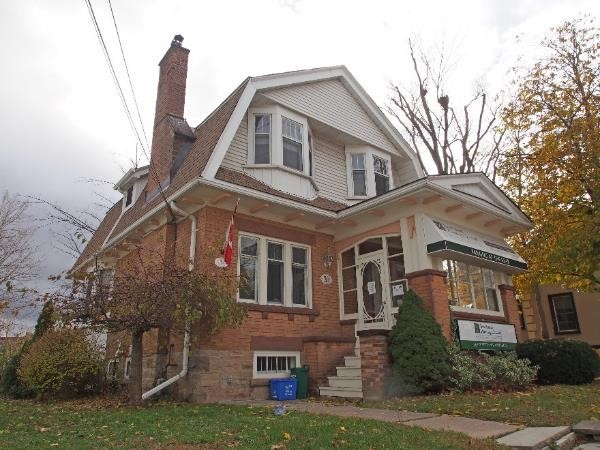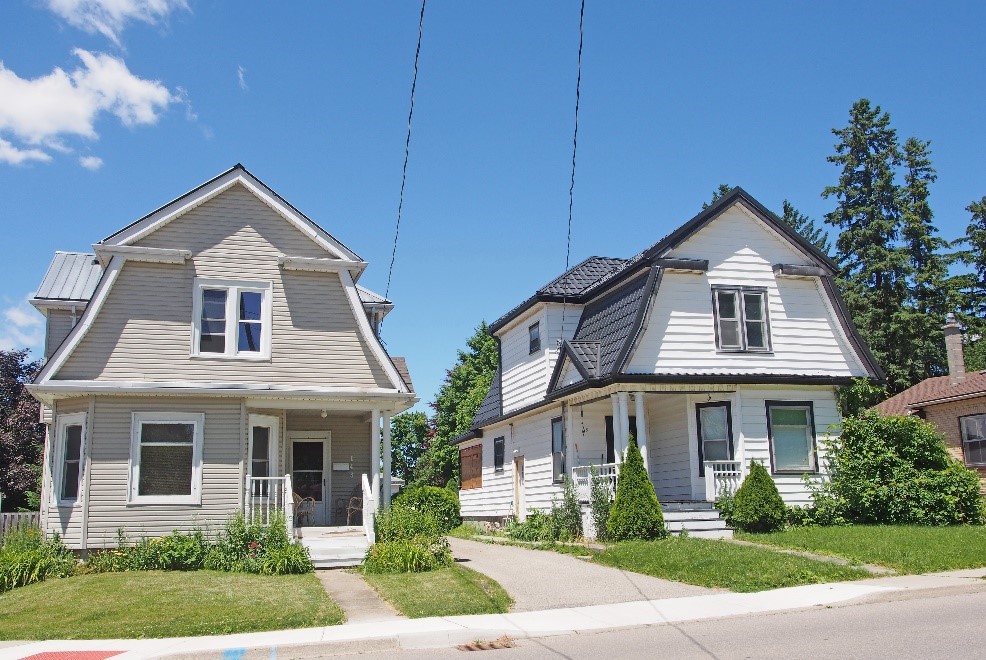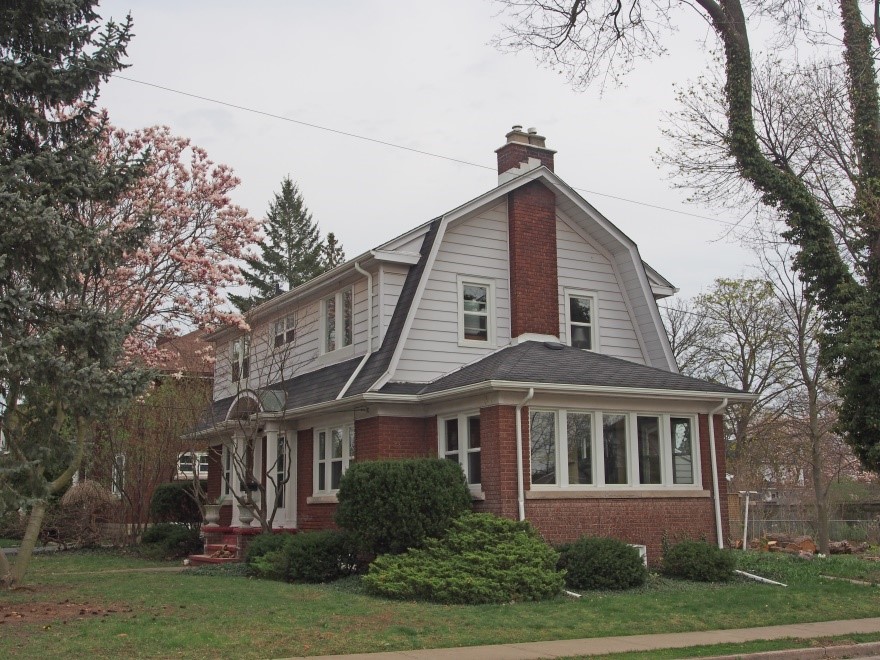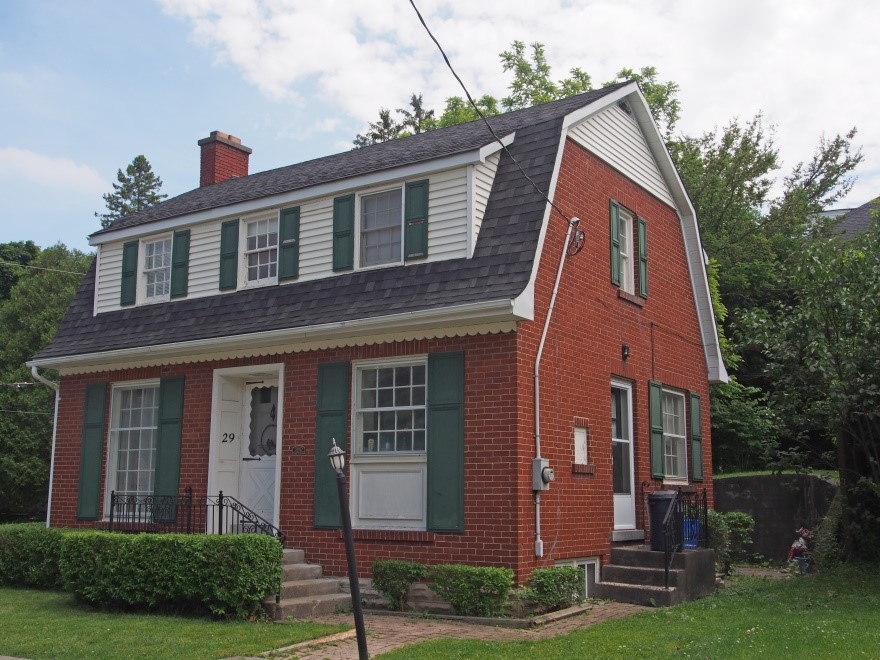 Neo-Classical, 1810-1850 – This style was a direct result of the War of 1812. Many Upper Canadians returning from the war with the United States were second or third generation Loyalists who had inherited land and means from their forefathers. Once the conflict had passed, they had the money and the time to expand their holdings and indulge their architectural whims. Both residential and commercial buildings were constructed on the traditional Georgian plan, but they had a new gaiety and lightheartedness. Detailing became more refined, delicate, and elegant.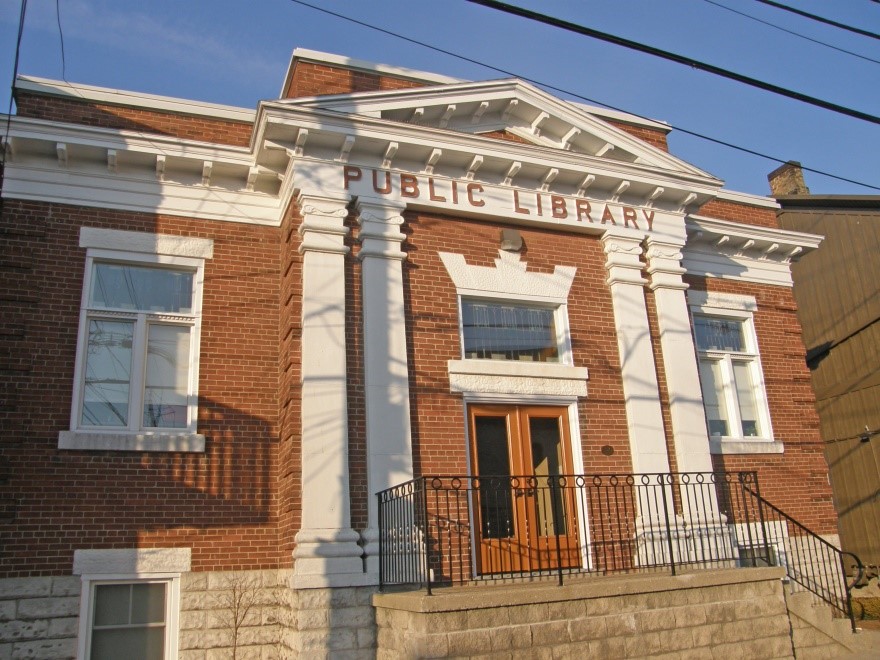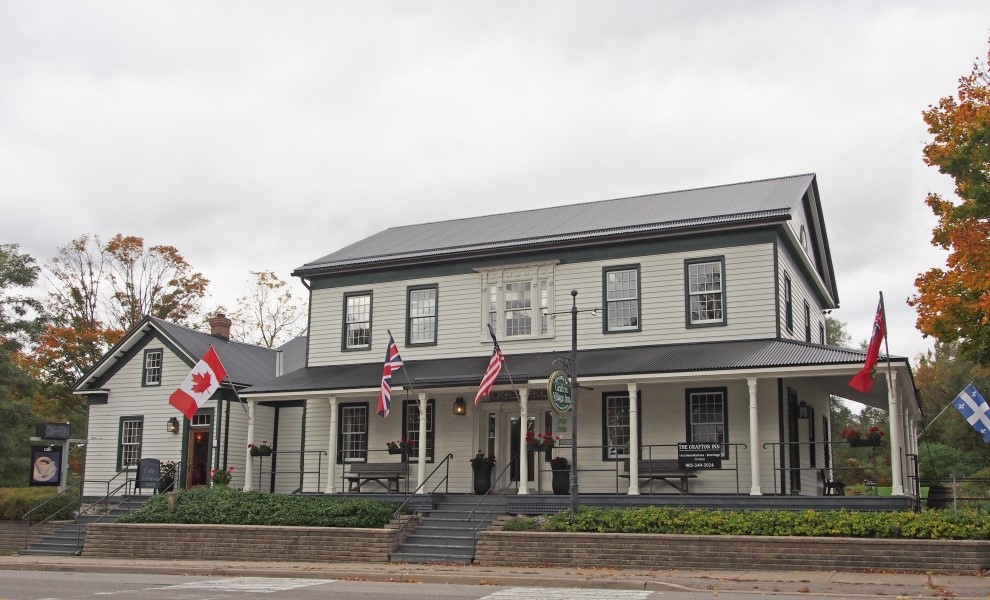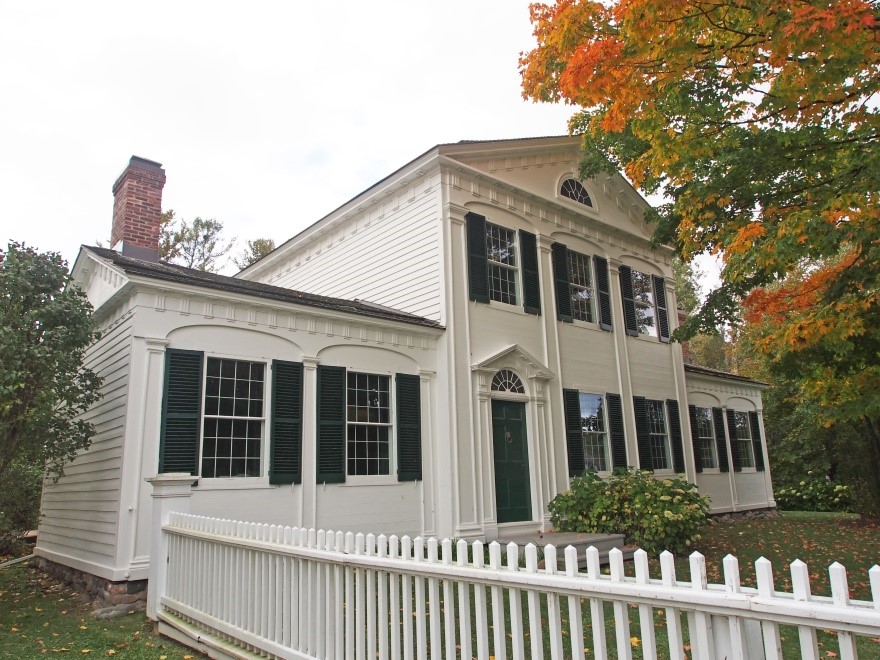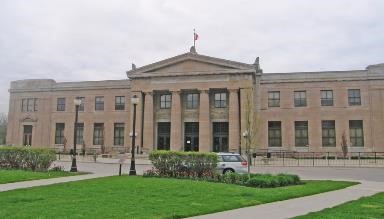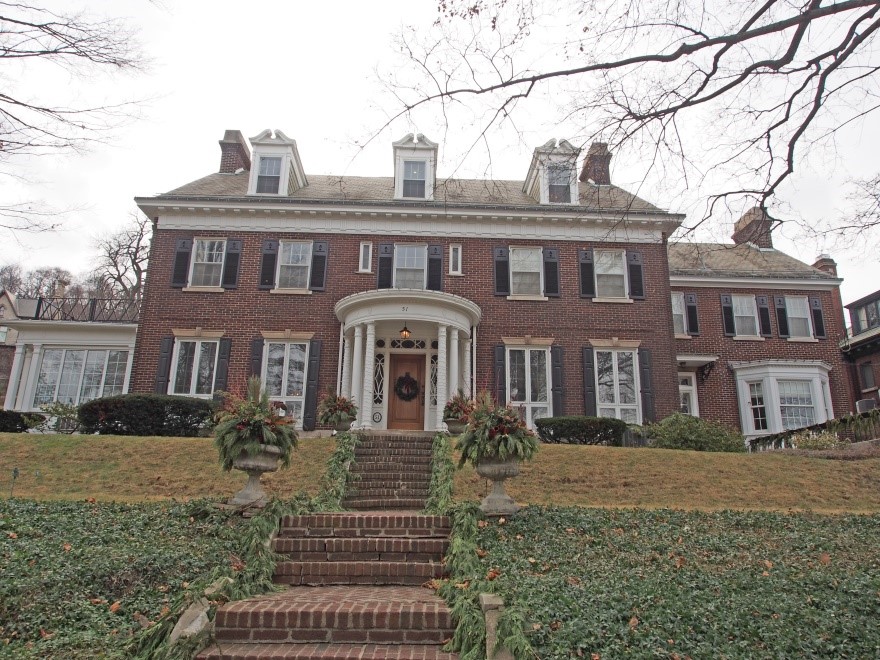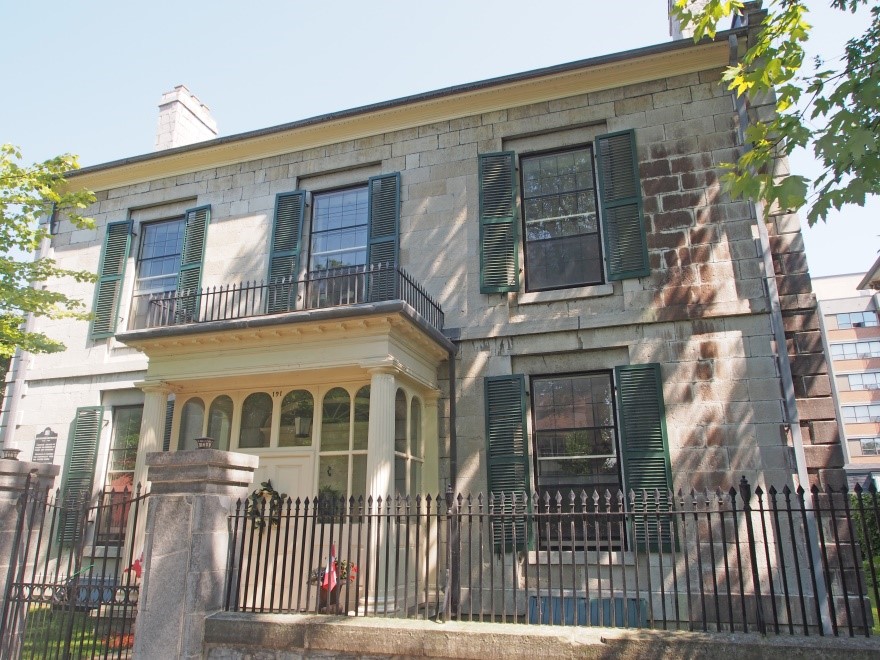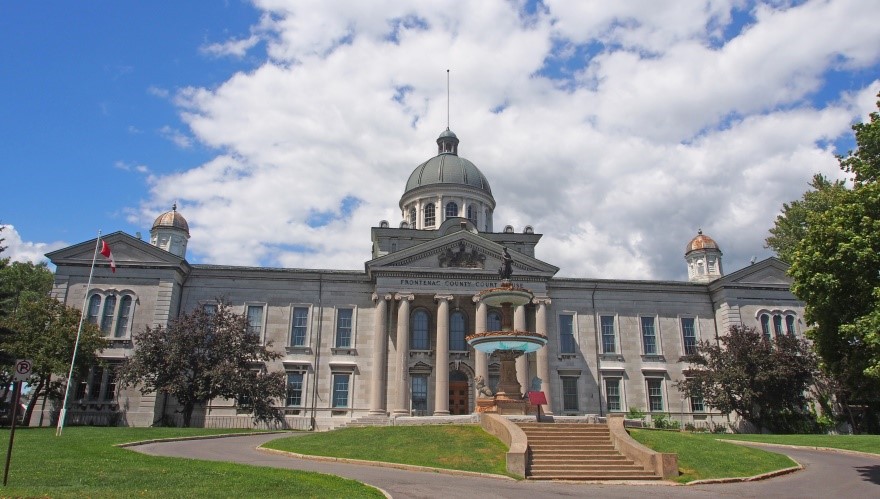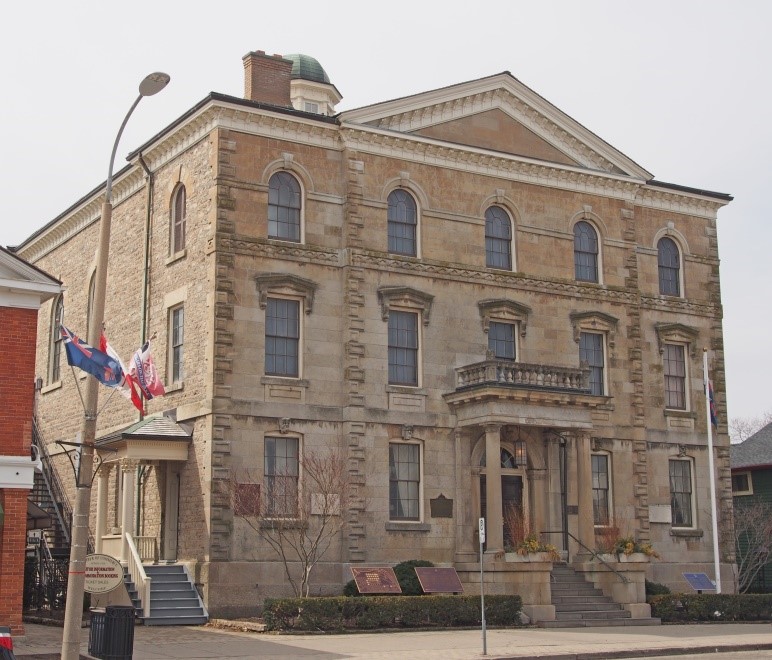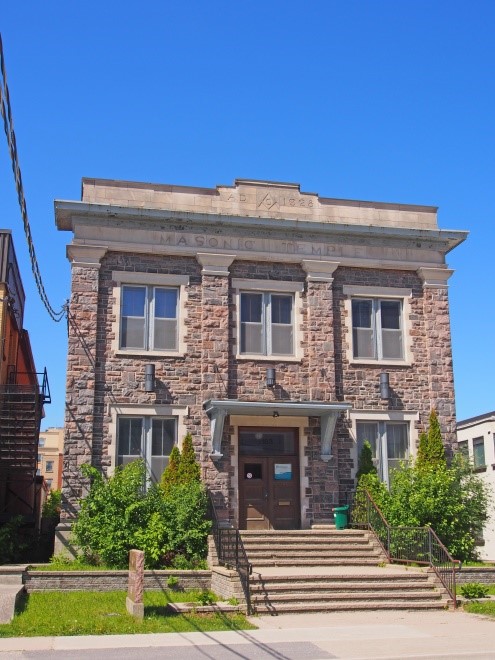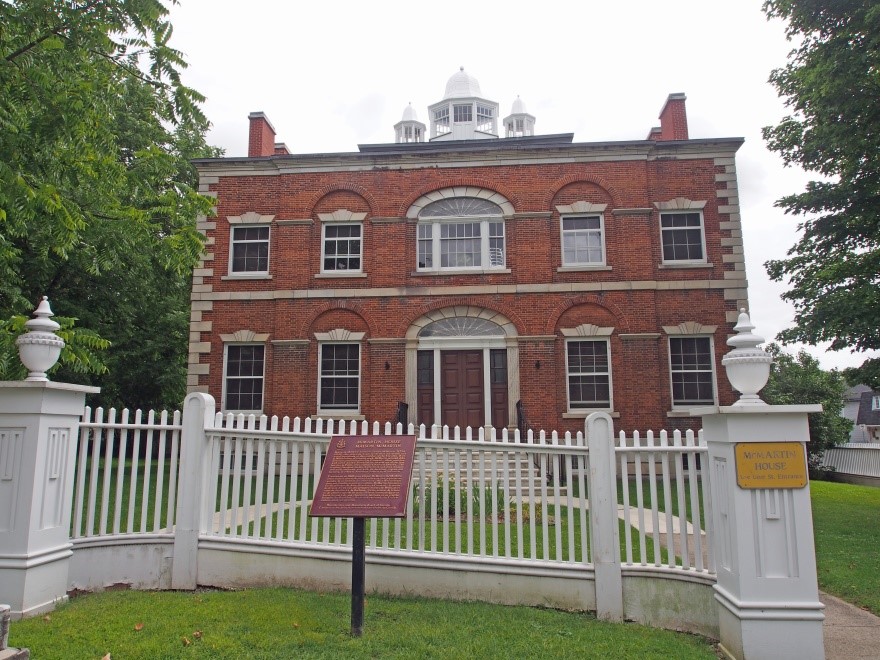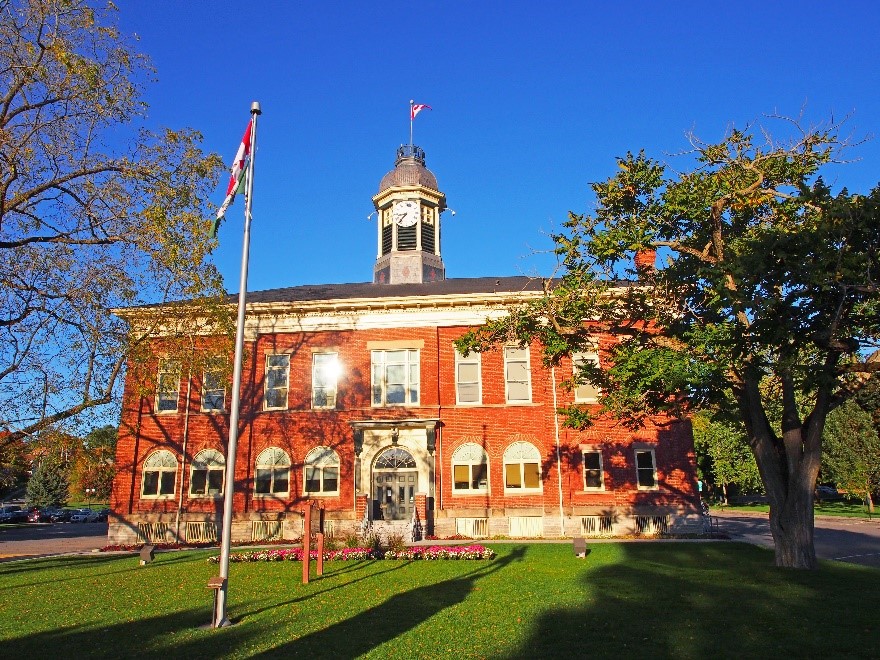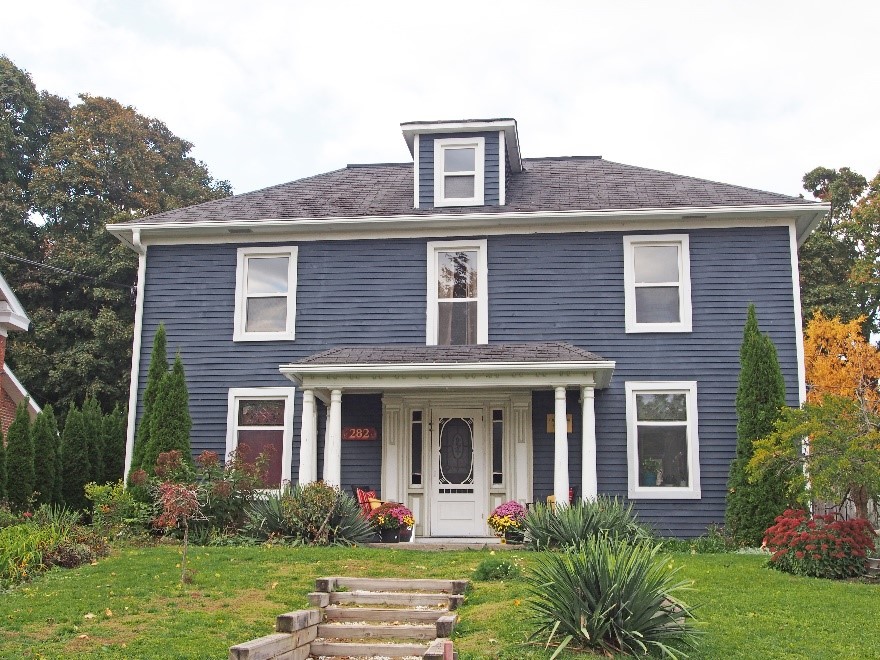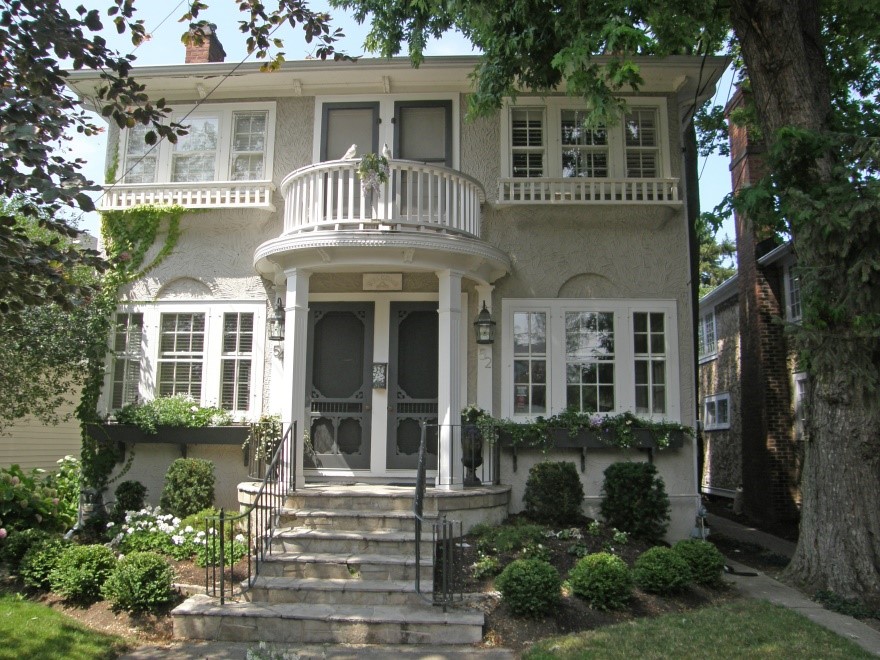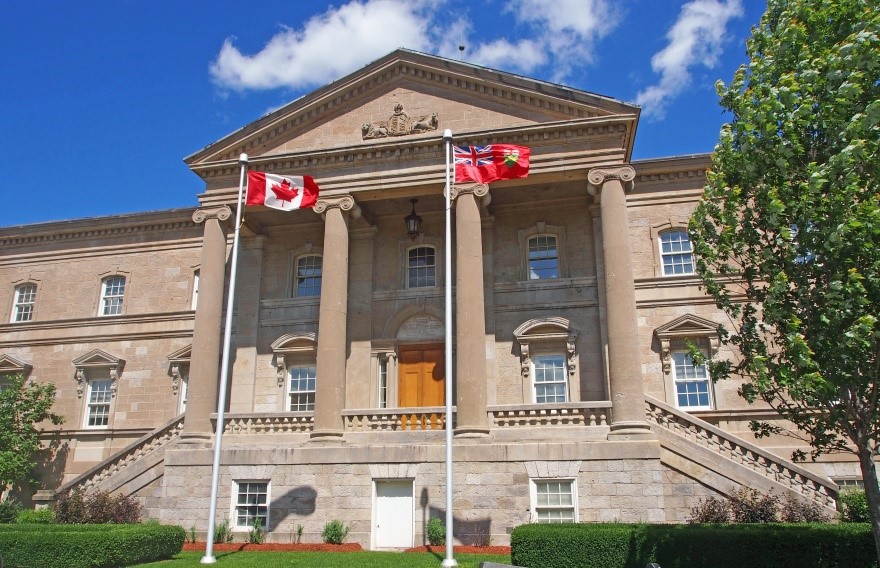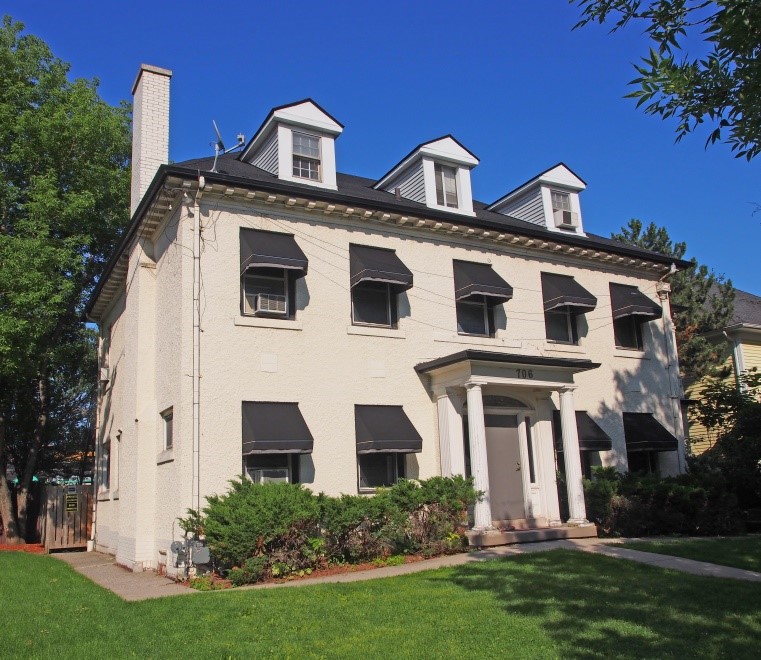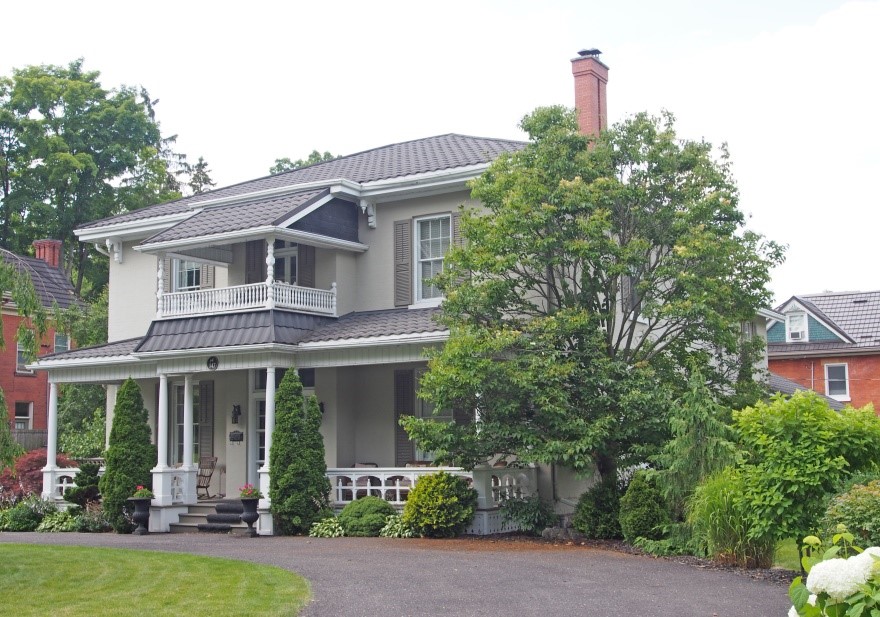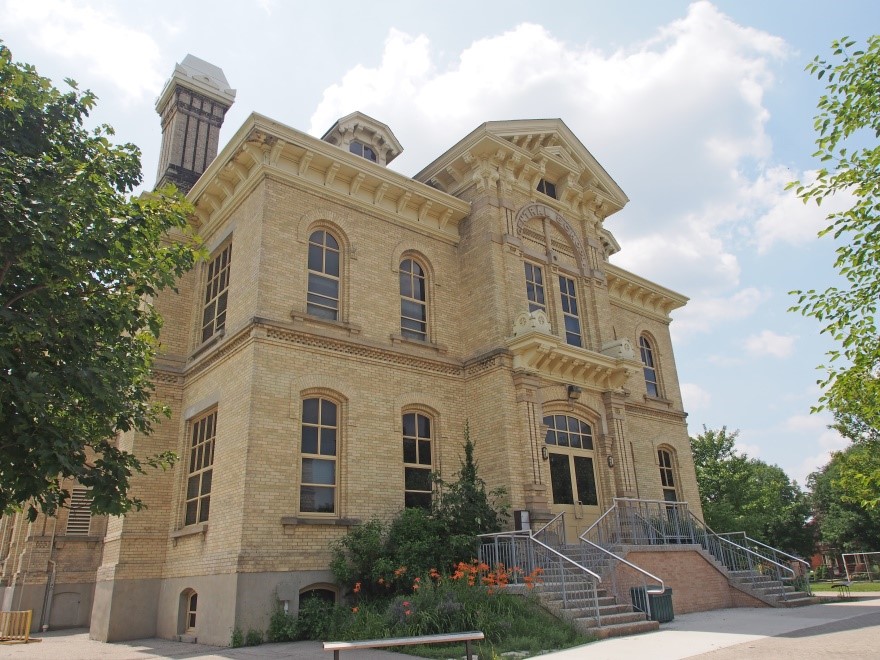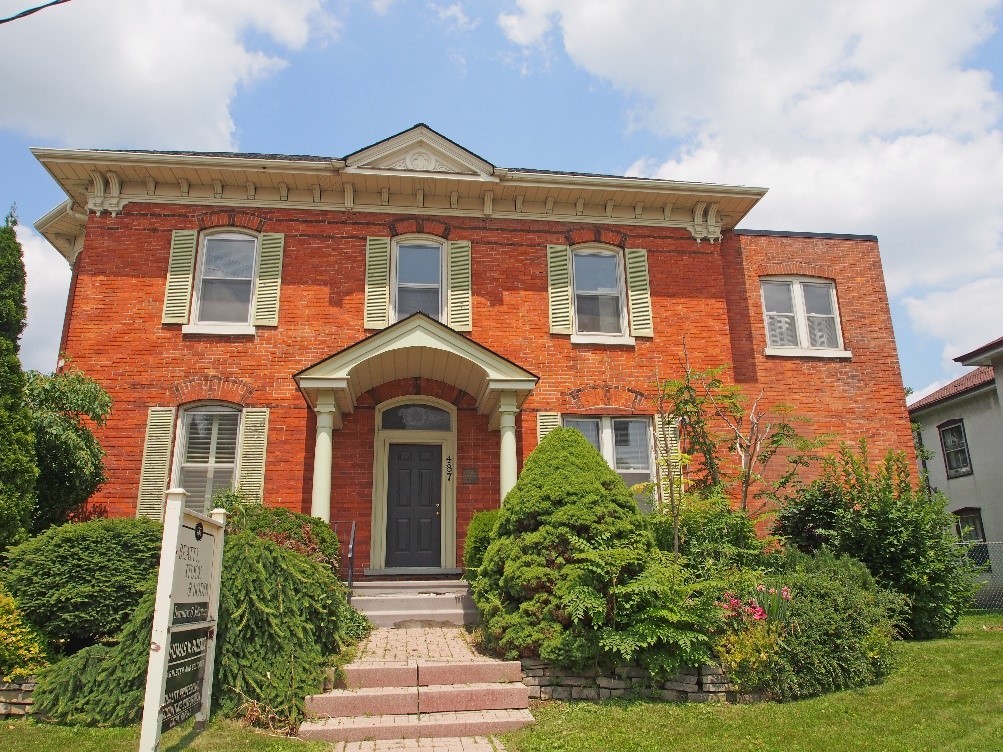 Neo-Georgian
Georgian architecture is the name given to the set of architectural styles current between 1714 and 1830. It is named after the first four British monarchs of the House of Hanover – George 1, George II, George III and George IV who reigned in continuous succession from August 1714 to June 1830. The style was revived in the late nineteenth century in the United States as Colonial Revival architecture and in the early twentieth century in Great Britain as Neo-Georgian architecture; in both it is also called Georgian Revival architecture.
The Georgian style is highly variable, but marked by symmetry and proportion based on the classical architecture of Greece and Rome, as revived in Renaissance architecture. Ornament is normally in the classical tradition, but typically restrained, and sometimes almost completely absent on the exterior. The period brought the vocabulary of classical architecture to smaller and more modest buildings than had been the case before, replacing English vernacular architecture (or becoming the new vernacular style) for almost all new middle-class homes and public buildings by the end of the period.
Georgian architecture is characterized by its proportion and balance; simple mathematical ratios were used to determine the height of a window in relation to its width or the shape of a room as a double cube. Regularity, as with ashlar (uniformly cut) stonework, was strongly approved, giving symmetry and adherence to classical rules: the lack of symmetry, where Georgian additions were added to earlier structures remaining visible, was deeply felt as a flaw, at least before John Nash began to introduce it in a variety of styles. Regularity of house fronts along a street was a desirable feature of Georgian town planning.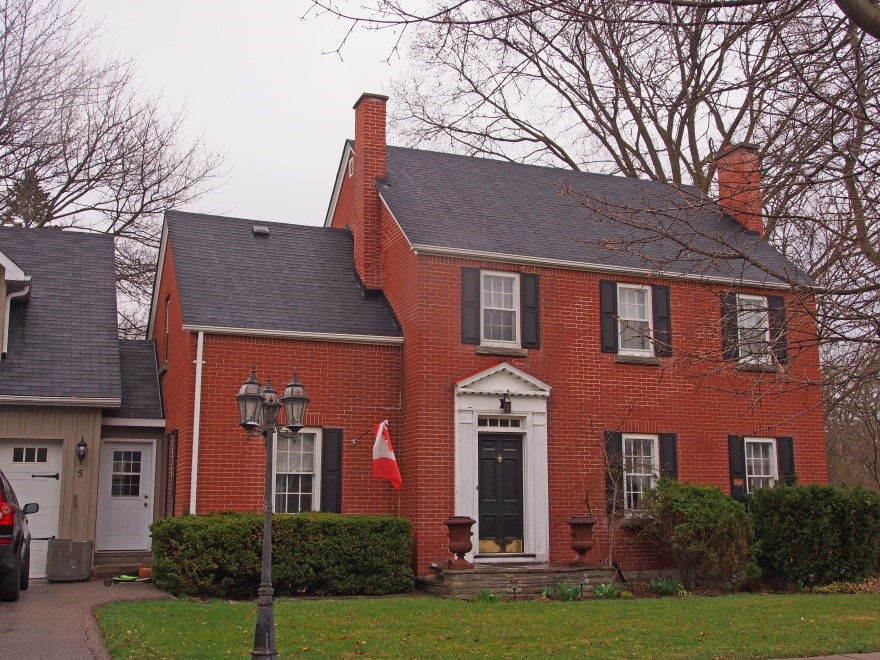 Neo-Gothic (Collegiate Gothic): is monochromatic and on a much grander scale than Gothic. Early Neo-Gothic was the decorative use of Gothic elements with a lack of knowledge and understanding of Gothic construction. Neo-Gothic tried to understand the basic principles of Gothic and used them. Early Neo-Gothic churches were often plastered or painted, later Neo-Gothic churches were not. An important moment in the development of Neo-Gothic is the year 1853, when the hierarchy of the Roman Catholic church was fully restored in the Netherlands. Materials used were natural stone combined with brick. Around the year 1850 Neo-Gothicism was maturing and increasingly became a Roman Catholic style almost exclusively. Neo-Gothic was adopted as the style for schools and universities in the early years of the 20th century. The style became so common for scholastic buildings that it is often called Collegiate Gothic. Wall buttresses and finials are added, but they are generally far too small to be of any structural benefit.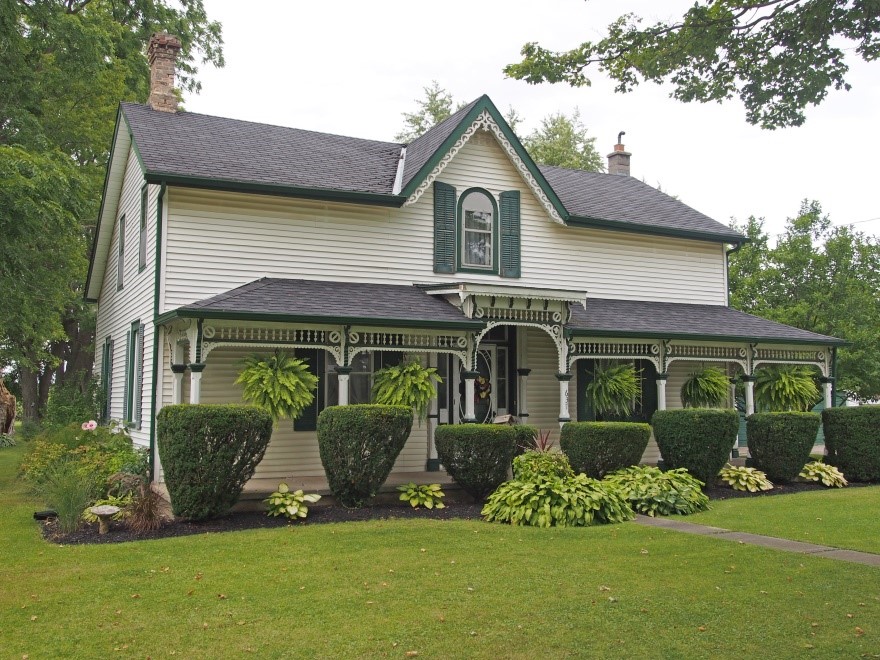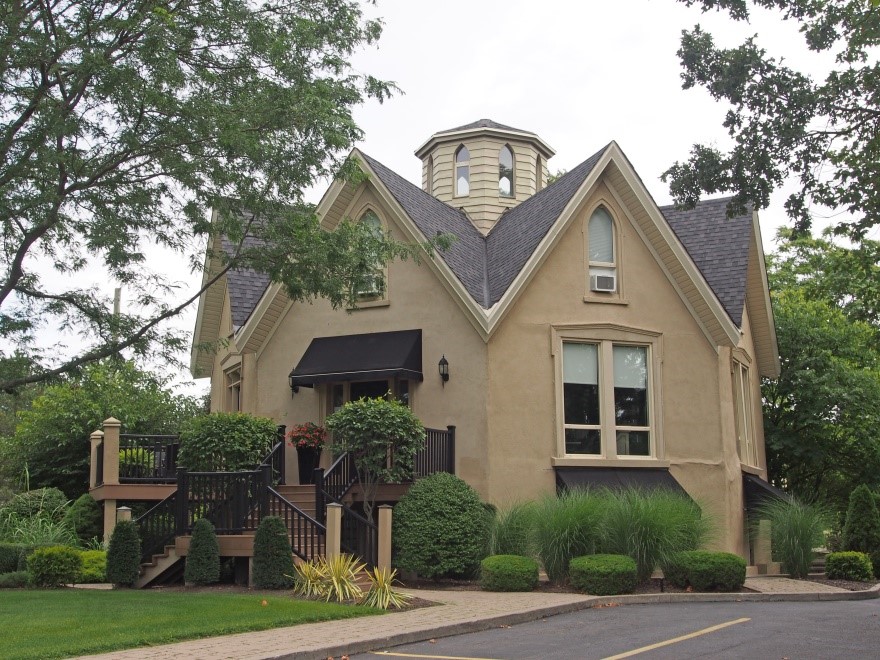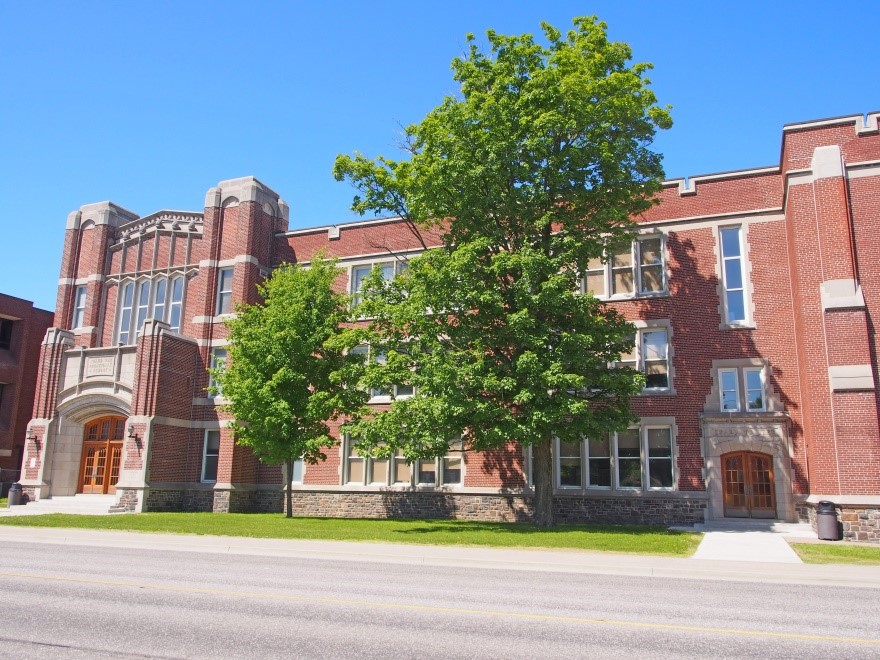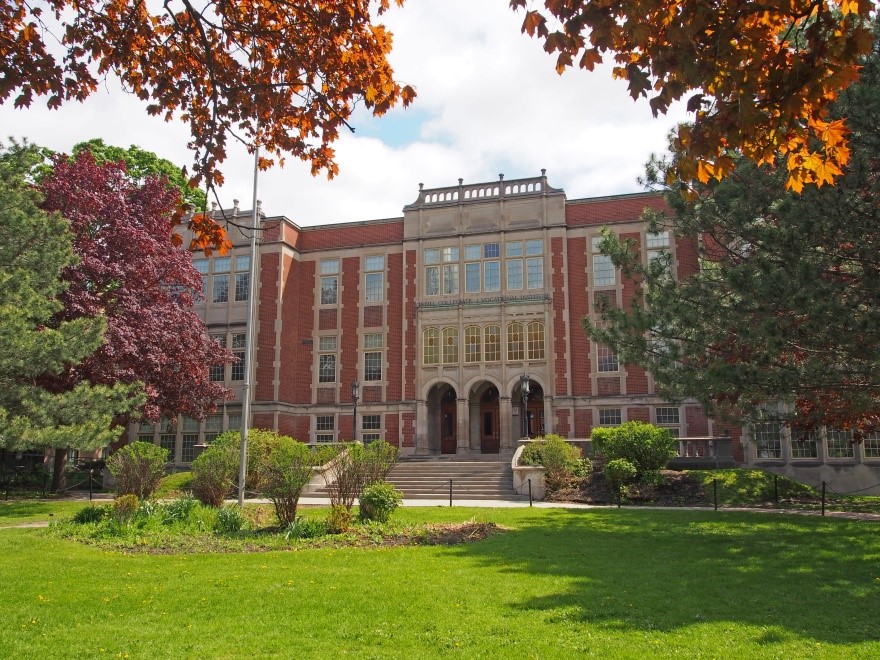 Neo-Tudor – At the same time that the Craftsman style was in vogue, the Neo-Tudor style also became popular. Both styles were striving to achieve a sense of coziness and quaintness, and sometimes Craftsman and Neo-Tudor components are mixed together. Neo-Tudor exteriors are usually a mixture of brick and stucco, often with some half-timbering included. Other characteristics include high-pitched roofs, asymmetrical configurations, enclosed entryways, fireplaces with ornamented chimneys and chimney pots, and casement windows.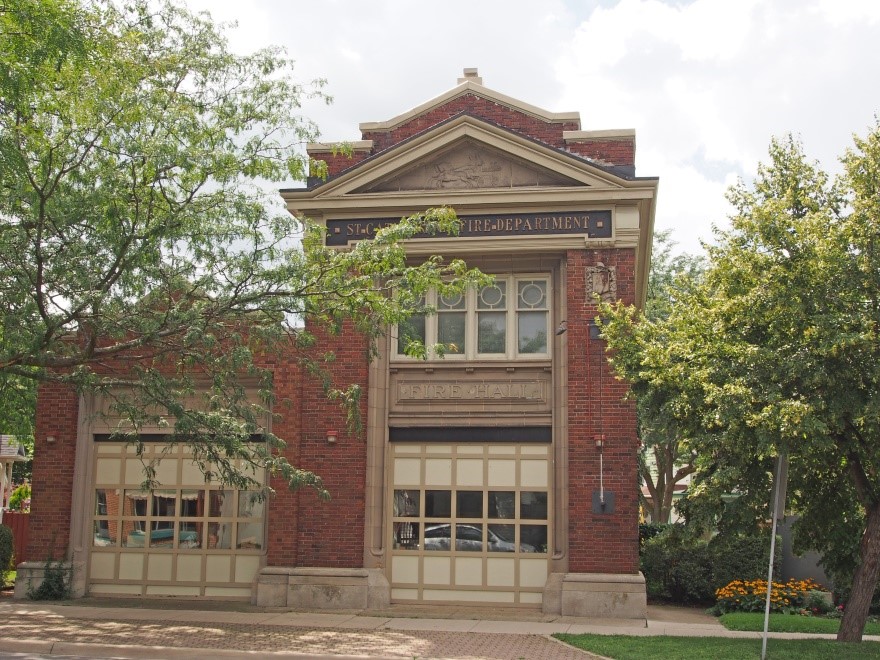 Palladian architecture is a European style derived from and inspired by the designs of the Venetian architect Andrea Palladio (1508-1580).  Palladio's work was based on the symmetry, perspective and values of the formal classical temple architecture of the Ancient Greeks and Romans.  The style continued to develop from the 17th century until the end of the 18th century.
Byzantine Revival (or Neo-Byzantine) 1840s-1870s: was most frequently seen in religious, institutional and public buildings. Neo-Byzantine architecture incorporates elements of the Byzantine style associated with Eastern and Orthodox Christian architecture dating from the 5th through 11th centuries. The character of Byzantine architecture is determined by the development of the dome to cover polygonal and square plans for churches, tombs, and baptisteries. The practice of placing many domes over one building is in strong contrast to the Romanesque system of vaulted roofs. The system of construction in concrete and brickwork introduced by the Romans was adopted by the Byzantines. The skeleton of concrete and brickwork was first completed and allowed to settle before the surface sheathing of unyielding marble slabs was added. Brickwork lent itself externally to decorative whimsy in patterns and banding, and internally it was suitable for covering with marble, mosaic and fresco decoration. The grouping of small domes or semi-domes round the large central dome was one of the most remarkable peculiarities of Byzantine churches; the exterior closely corresponds with the interior. The features of the style are multiple domes, round-arched windows, and ample decoration.